Description
How to use this Prayer List:
Prayer is one of the most important things in your Christian life. The Bible says, "Men ought always to pray, and not to faint" (Luke 18:1). If you do not pray, then you will faint. If you do not pray, then you will be a weak Christian. The reason that many Christians stop praying, is because they think that their prayers are not doing any good. That is a faith problem, and the only place to get faith is from the Bible. The Bible says, "So then faith cometh by hearing, and hearing by the word of God" (Romans 10:17). That is why this Prayer List contains so much Scripture for you to read while you are praying — to strengthen your faith. God really does care, and wants to answer your prayers, when you are praying according to His Word. You will find a place at the end to record the dates and answers to your prayers. May God richly guide, direct, and bless you as you go to Him in prayer.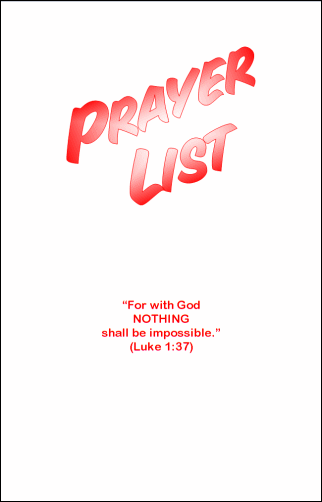 Text Version
Dear Heavenly Father:
ü Please forgive me for my sins.
"If we confess our sins, he is faithful and just to forgive us our sins, and to cleanse us from all unrighteousness." (1 John 1:9)
"For I will declare mine iniquity; I will be sorry for my sin."  (Psalm 38:18)
ü Please help me to forgive any who have wronged me.
"And be ye kind one to another, tenderhearted, forgiving one another, even as God for Christ's sake hath forgiven you." (Ephesians 4:32)
"But if ye forgive not men their trespasses, neither will your Father forgive your trespasses." (Matthew 6:15)
ü Please help me to fear You as I should.
"The fear of the LORD is the beginning of wisdom: and the knowledge of the holy is understanding." (Proverbs 9:10)
"The fear of the LORD is to hate evil: pride, and arrogancy, and the evil way, and the froward mouth, do I hate." (Proverbs 8:13)
ü Please help me to look for your coming today, and to live like it.
"Thy kingdom come. Thy will be done in earth, as it is in heaven." (Matthew 6:10)
"Teaching us that, denying ungodliness and worldly lusts, we should live soberly, righteously, and godly, in this present world; Looking for that blessed hope, and the glorious appearing of the great God and our Saviour Jesus Christ." (Titus 2:12-13)
ü Please supply my daily needs.
"But my God shall supply all your need according to his riches in glory by Christ Jesus." (Philippians 4:19)
"I have been young, and now am old; yet have I not seen the righteous forsaken, nor his seed begging bread." (Psalms 37:25)
ü Please help me to put You first in my life.
"But seek ye first the kingdom of God, and his righteousness; and all these things shall be added unto you." (Matthew 6:33)
ü Thank you for all you have done for me.
"Bless the LORD, O my soul, and forget not all his benefits." (Psalm 103:2)
"In every thing give thanks: for this is the will of God in Christ Jesus concerning you." (I Thessalonians 5:18)
ü Please help me to submit myself unto you, and to resist the devil.
"Submit yourselves therefore to God. Resist the devil, and he will flee from you." (James 4:7)
ü Please keep me from temptation.
"Watch and pray, that ye enter not into temptation: the spirit indeed is willing, but the flesh is weak." (Matthew 26:41)
"And lead us not into temptation; but deliver us from evil."           (Luke 11:4b)
ü Please guide my attitude and words.
"Do all things without murmurings and disputings." (Philippians 2:14)
"Let the words of my mouth, and the meditation of my heart, be acceptable in thy sight, O LORD, my strength, and my redeemer." (Psalm 19:14)
ü Please help me to be a faithful witness.
"Let the redeemed of the LORD say so, whom he hath redeemed from the hand of the enemy." (Psalm 107:2)
"But that on the good ground are they, which in an honest and good heart, having heard the word, keep it, and bring forth fruit with patience." (Luke 8:15)
"So shall my word be that goeth forth out of my mouth: it shall not return unto me void, but it shall accomplish that which I please, and it shall prosper in the thing whereto I sent it." (Isaiah 55:11)
ü Please raise up laborers for your work.
"Therefore said he unto them, The harvest truly is great, but the labourers are few: pray ye therefore the Lord of the harvest, that he would send forth labourers into his harvest." (Luke 10:2)
ü Please help me to understand the Bible.
"Open thou mine eyes, that I may behold wondrous things out of thy law." (Psalm 119:18)
"Study to shew thyself approved unto God, a workman that needeth not to be ashamed, rightly dividing the word of truth." (2 Timothy 2:15)
ü Please help me to know and to do your perfect will for my life.
"Teach me thy way, O LORD, and lead me in a plain path, because of mine enemies." (Psalm 27:11)
"I beseech you therefore, brethren, by the mercies of God, that ye present your bodies a living sacrifice, holy, acceptable unto God, which is your reasonable service.   And be not conformed to this world: but be ye transformed by the renewing of your mind, that ye may prove what is that good, and acceptable, and perfect, will of God." (Romans 12:1-2)
ü Please help and protect me this day.
"Safety is of the LORD." (Proverbs 21:31b)
"I will both lay me down in peace, and sleep: for thou, LORD, only makest me dwell in safety." (Psalms 4:8)
"For he shall give his angels charge over thee, to keep thee in all thy ways." (Psalm 91:11)
ü Please help my family and relatives.
1.
2.
3.
4.
5.
6.
7.
8.
9.
10.
11.
12.
13.
14.
15.
16.
17.
18.
19.
20.
21.
22.
23.
24.
25.
26.
27.
28.
29.
30.
31.
32.
33.
34.
35.
36.
37.
38.
39.
40.
41.
42.
43.
44.
45.
ü Please help these Christian friends.
"Beloved, I wish above all things that thou mayest prosper and be in health, even as thy soul prospereth." (3 John 1:2)
"Praying always with all prayer and supplication in the Spirit, and watching thereunto with all perseverance and supplication for all saints." (Ephesians 6:18)
1.
2.
3.
4.
5.
6.
7.
8.
9.
10.
11.
12.
13.
14.
15.
16.
17.
18.
19.
20.
21.
22.
23.
24.
25.
26.
27.
28.
29.
30.
31.
32.
33.
34.
35.
36.
37.
38.
39.
40.
41.
ü Please help these people to repent of their sin and to receive the Lord Jesus Christ as their Savior.
"Behold, now is the accepted time; behold, now is the day of salvation."   (2 Corinthians 6:2)
"The Lord is not slack concerning his promise, as some men count slackness; but is longsuffering to us-ward, not willing that any should perish, but that all should come to repentance." (2 Peter 3:9)
Date
ü Please help these pastors and missionaries.
"Finally, brethren, pray for us, that the word of the Lord may have free course, and be glorified, even as it is with you: And that we may be delivered from unreasonable and wicked men: for all men have not faith." (II Thessalonians 3:1,2)
1.
2.
3.
4.
5.
6.
7.
8.
9.
10.
11.
12.
13.
14.
15.
16.
17.
18.
19.
20.
21.
22.
23.
24.
25.
ü Please help these government leaders.
"I exhort therefore, that, first of all, supplications, prayers, intercessions, and giving of thanks, be made for all men; For kings, and for all that are in authority; that we may lead a quiet and peaceable life in all godliness and honesty." (I Timothy 2:1,2)
1.
2.
3.
4.
5.
6.
7.
8.
9.
10.
11.
12.
ü Please help the Jewish people.
"Pray for the peace of Jerusalem: they shall prosper that love thee." (Psalm 122:6)
ü Other requests.                                                                                                              Date
Diary of Answered Prayer
                 Request                                                                                                      Date Began                        Date Answered
PR-E-101
FOR FREE DISTRIBUTION ONLY
www.libertygospeltracts.com
LIBERTY GOSPEL TRACTS
11845 W CARSON CITY RD
GREENVILLE     MI             48838             USA