Description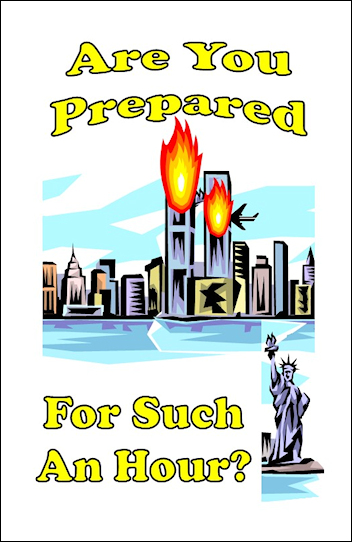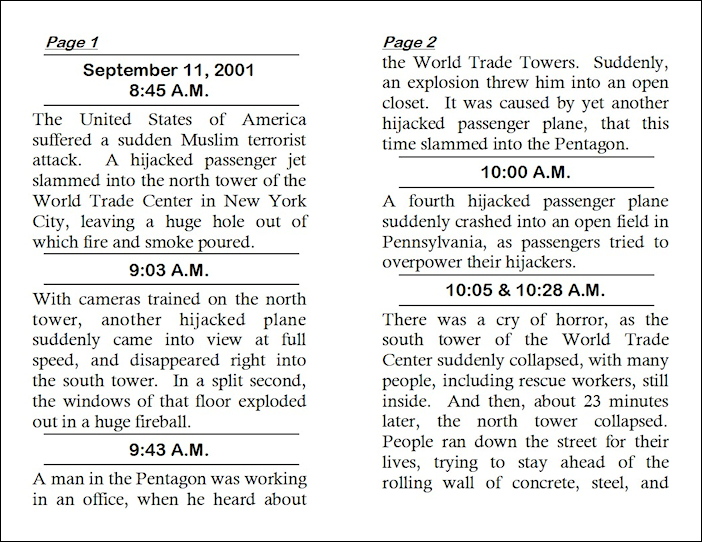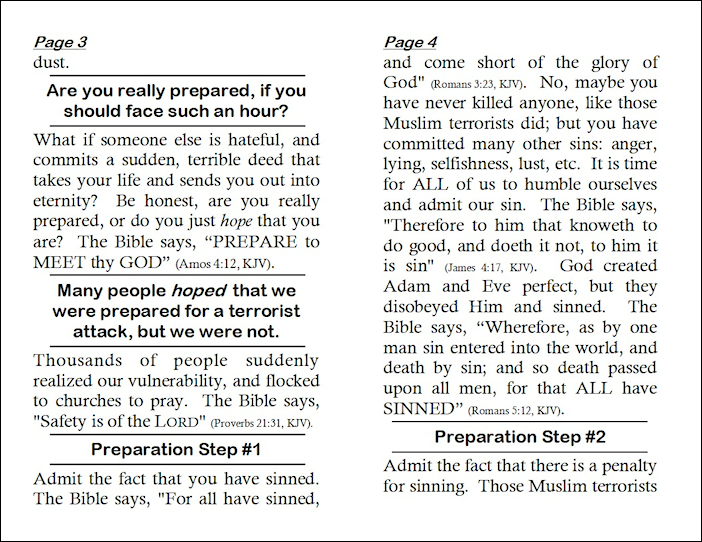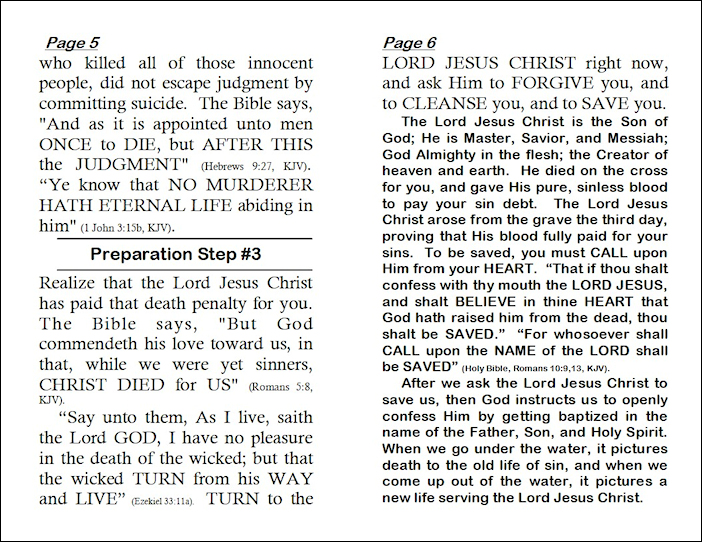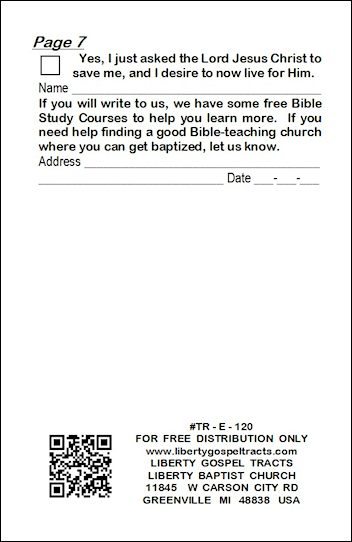 September 11, 2001
8:45 A.M.
The United States of America suffered a sudden Muslim terrorist attack.  A hijacked passenger jet slammed into the north tower of the World Trade Center in New York City, leaving a huge hole out of which fire and smoke poured.
9:03 A.M.
With cameras trained on the north tower, another hijacked plane suddenly came into view at full speed, and disappeared right into the south tower.  In a split second, the windows of that floor exploded out in a huge fireball.
9:43 A.M.
A man in the Pentagon was working in an office, when he heard about the World Trade Towers.  Suddenly, an explosion threw him into an open closet.  It was caused by yet another hijacked passenger plane, that this time slammed into the Pentagon.
10:00 A.M.
A fourth hijacked passenger plane suddenly crashed into an open field in Pennsylvania, as passengers tried to overpower their hijackers.
10:05 & 10:28 A.M.
There was a cry of horror, as the south tower of the World Trade Center suddenly collapsed, with many people, including rescue workers, still inside.  And then, about 23 minutes later, the north tower collapsed.  People ran down the street for their lives, trying to stay ahead of the rolling wall of concrete, steel, and dust.
Are you really prepared, if you should face such an hour?
What if someone else is hateful, and commits a sudden, terrible deed that takes your life and sends you out into eternity?  Be honest, are you really prepared, or do you just hope that you are?  The Bible says, "PREPARE to MEET thy GOD" (Amos 4:12, KJV).
Many people hoped  that we
were prepared for a terrorist attack, but we were not.
Thousands of people suddenly realized our vulnerability, and flocked to churches to pray.  The Bible says, "Safety is of the Lord" (Proverbs 21:31, KJV).
Preparation Step #1
Admit the fact that you have sinned.  The Bible says, "For all have sinned, and come short of the glory of God" (Romans 3:23, KJV).  No, maybe you have never killed anyone, like those Muslim terrorists did; but you have committed many other sins: anger, lying, selfishness, lust, etc.  It is time for ALL of us to humble ourselves and admit our sin.  The Bible says, "Therefore to him that knoweth to do good, and doeth it not, to him it is sin" (James 4:17, KJV).  God created Adam and Eve perfect, but they disobeyed Him and sinned.  The Bible says, "Wherefore, as by one man sin entered into the world, and death by sin; and so death passed upon all men, for that ALL have SINNED" (Romans 5:12, KJV).
Preparation Step #2
Admit the fact that there is a penalty for sinning.  Those Muslim terrorists who killed all of those innocent people, did not escape judgment by committing suicide.  The Bible says, "And as it is appointed unto men ONCE to DIE, but AFTER THIS the JUDGMENT" (Hebrews 9:27, KJV).  "Ye know that NO MURDERER HATH ETERNAL LIFE abiding in him" (1 John 3:15b, KJV).
Preparation Step #3
Realize that the Lord Jesus Christ has paid that death penalty for you.  The Bible says, "But God commendeth his love toward us, in that, while we were yet sinners, CHRIST DIED for US" (Romans 5:8, KJV).
"Say unto them, As I live, saith the Lord GOD, I have no pleasure in the death of the wicked; but that the wicked TURN from his WAY and LIVE" (Ezekiel 33:11a).  TURN to the LORD JESUS CHRIST right now, and ask Him to FORGIVE you, and to CLEANSE you, and to SAVE you.
The Lord Jesus Christ is the Son of God; He is Master, Savior, and Messiah; God Almighty in the flesh; the Creator of heaven and earth.  He died on the cross for you, and gave His pure, sinless blood to pay your sin debt.  The Lord Jesus Christ arose from the grave the third day, proving that His blood fully paid for your sins.  To be saved, you must CALL upon Him from your HEART.  "That if thou shalt confess with thy mouth the LORD JESUS, and shalt BELIEVE in thine HEART that God hath raised him from the dead, thou shalt be SAVED."  "For whosoever shall CALL upon the NAME of the LORD shall be SAVED" (Holy Bible, Romans 10:9,13, KJV).
After we ask the Lord Jesus Christ to save us, then God instructs us to openly confess Him by getting baptized in the name of the Father, Son, and Holy Spirit.  When we go under the water, it pictures death to the old life of sin, and when we come up out of the water, it pictures a new life serving the Lord Jesus Christ.
Yes, I just asked the Lord Jesus Christ to save me, and I desire to now live for Him.
Name _______________________________________
If you will write to us, we have some free Bible Study Courses to help you learn more.  If you need help finding a good Bible-teaching church where you can get baptized, let us know.
Address _____________________________________
_____________________________ Date ___-___-___
#TR – E – 120
FOR  FREE  DISTRIBUTION  ONLY
www.libertygospeltracts.com
LIBERTY  GOSPEL  TRACTS
LIBERTY  BAPTIST  CHURCH
11845    W  CARSON  CITY  RD
GREENVILLE   MI   48838   USA