Description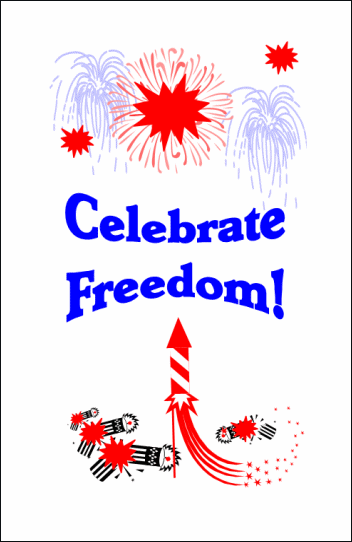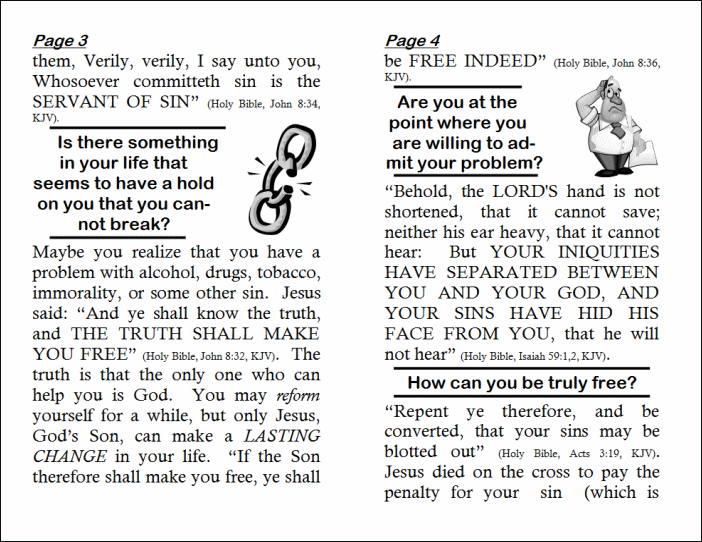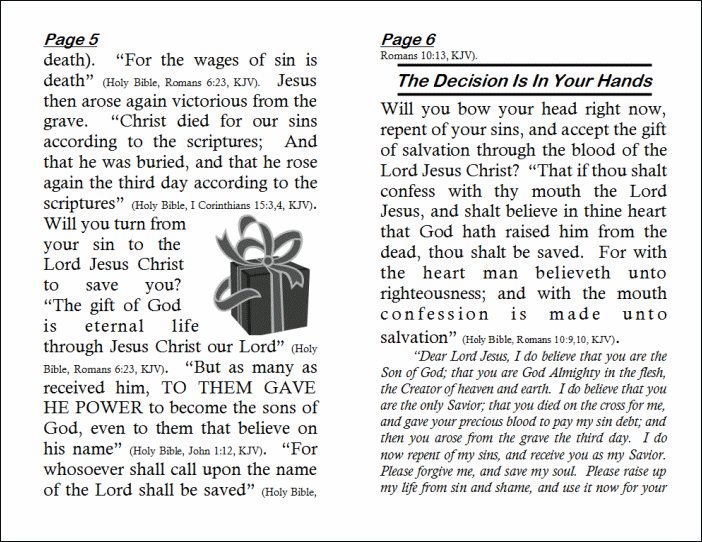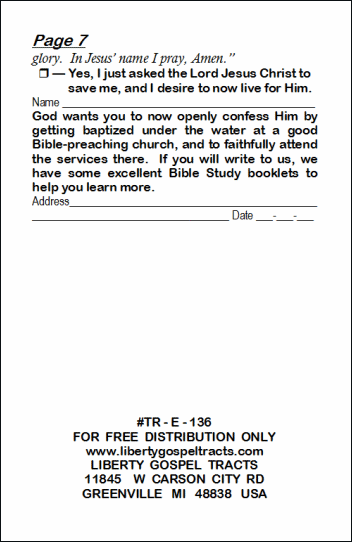 TEXT VERSION
Celebrate Freedom
What is the best way to
celebrate freedom?
Check off what you would choose.
 FIREWORKS!
PARTIES!
VACATIONS!
ALL OF THE ABOVE!
One problem with all of those things is that they do not last very long.  In just a few moments, the fireworks fade… and the darkness returns.  In just a few hours, the party ends… and morning comes again.  In just a few days, the vacation is over, and your life goes on… or will it?  By the way, "For what is your life? It is even a vapour, that appeareth for a little time, and then vanisheth away" (Holy Bible, James 4:14, KJV).
Your life is a lot like
fireworks, parties, and vacations — it is short.
What is going to happen to you then?  Is all the fun now just a show?  "Even in laughter the heart is sorrowful; and the end of that mirth is heaviness" (Holy Bible, Proverbs 14:13, KJV).  Is your laughter just a cover-up?  Some of the things that you are doing may actually be robbing you of happiness — not bringing you more.  Jesus said: "The thief cometh not, but for to steal, and to kill, and to destroy: I am come that they might have life, and that they might have it more abundantly" (Holy Bible, John 10:10, KJV).  It is SIN that is the THIEF in your life.  "Jesus  answered them, Verily, verily, I say unto you, Whosoever committeth sin is the SERVANT OF SIN" (Holy Bible, John 8:34, KJV).
Is there something
in your life that seems to have a hold on you that you can-
not break?
Maybe you realize that you have a problem with alcohol, drugs, tobacco, immorality, or some other sin.  Jesus said: "And ye shall know the truth, and THE TRUTH SHALL MAKE YOU FREE" (Holy Bible, John 8:32, KJV).  The truth is that the only one who can help you is God.  You may reform yourself for a while, but only Jesus, God's Son, can make a LASTING CHANGE in your life.  "If the Son therefore shall make you free, ye shall be FREE INDEED" (Holy Bible, John 8:36, KJV).
Are you at the point where you are willing to ad-mit your problem?
"Behold, the LORD'S hand is not shortened, that it cannot save; neither his ear heavy, that it cannot hear:  But YOUR INIQUITIES HAVE SEPARATED BETWEEN YOU AND YOUR GOD, AND YOUR SINS HAVE HID HIS FACE FROM YOU, that he will not hear" (Holy Bible, Isaiah 59:1,2, KJV).
How can you be truly free?
"Repent ye therefore, and be converted, that your sins may be blotted out" (Holy Bible, Acts 3:19, KJV).  Jesus died on the cross to pay the penalty for your  sin  (which is death).  "For the wages of sin is death" (Holy Bible, Romans 6:23, KJV).  Jesus then arose again victorious from the grave.  "Christ died for our sins according to the scriptures;  And that he was buried, and that he rose again the third day according to the scriptures" (Holy Bible, I Corinthians 15:3,4, KJV).    Will you turn from your sin to the Lord Jesus Christ to save you?  "The gift of God is eternal life through Jesus Christ our Lord" (Holy Bible, Romans 6:23, KJV).  "But as many as received him, TO THEM GAVE HE POWER to become the sons of God, even to them that believe on his name" (Holy Bible, John 1:12, KJV).  "For whosoever shall call upon the name of the Lord shall be saved" (Holy Bible, Romans 10:13, KJV).
The Decision Is In Your Hands
Will you bow your head right now, repent of your sins, and accept the gift of salvation through the blood of the Lord Jesus Christ?  "That if thou shalt confess with thy mouth the Lord Jesus, and shalt believe in thine heart that God hath raised him from the dead, thou shalt be saved.  For with the heart man believeth unto righteousness; and with the mouth confession is made unto salvation" (Holy Bible, Romans 10:9,10, KJV).
"Dear Lord Jesus, I do believe that you are the Son of God; that you are God Almighty in the flesh, the Creator of heaven and earth.  I do believe that you are the only Savior; that you died on the cross for me, and gave your precious blood to pay my sin debt; and then you arose from the grave the third day.  I do now repent of my sins, and receive you as my Savior.  Please forgive me, and save my soul.  Please raise up my life from sin and shame, and use it now for your glory.  In Jesus' name I pray, Amen."
Yes, I just asked the Lord Jesus Christ to save me, and I desire to now live for Him.
Name _____________________________________________
God wants you to now openly confess Him by getting baptized under the water, and to faithfully attend a Bible-preaching church.  If you will write to us, we have some excellent Bible Study Courses to help you learn more.
Address ___________________________________________
___________________________________ Date ___-___-___
#TR – E – 185
© 2014
FOR  FREE  DISTRIBUTION  ONLY
www.libertygospeltracts.com
LIBERTY  GOSPEL  TRACTS
11845    W  CARSON  CITY  RD
GREENVILLE   MI   48838   USA