Description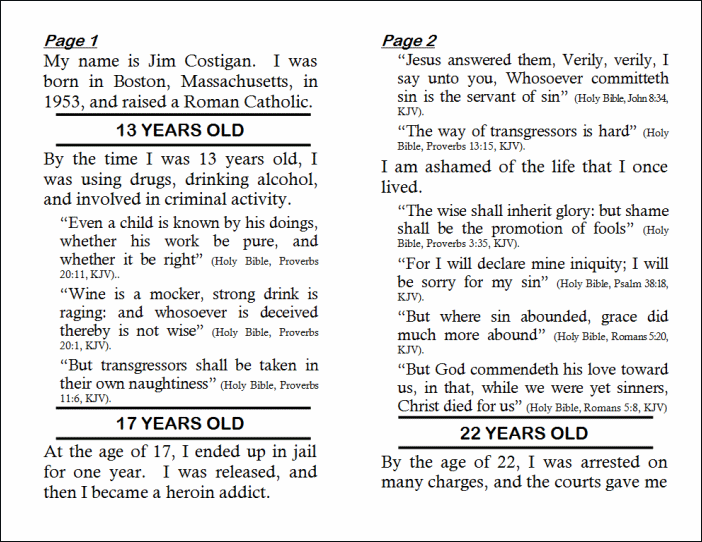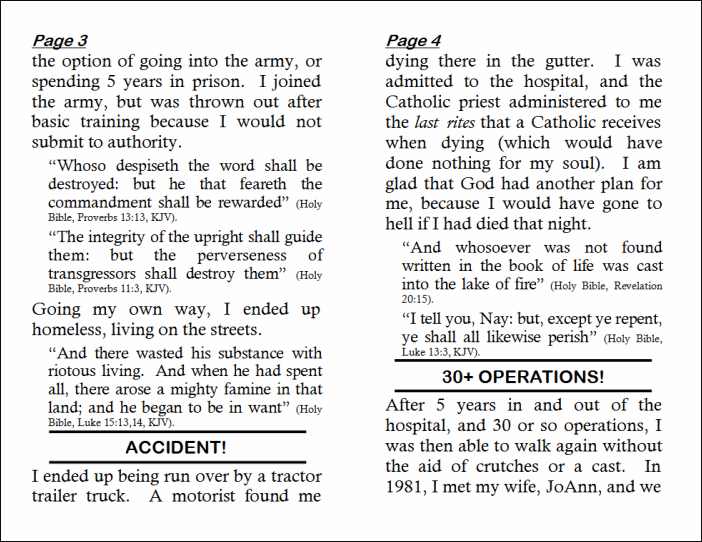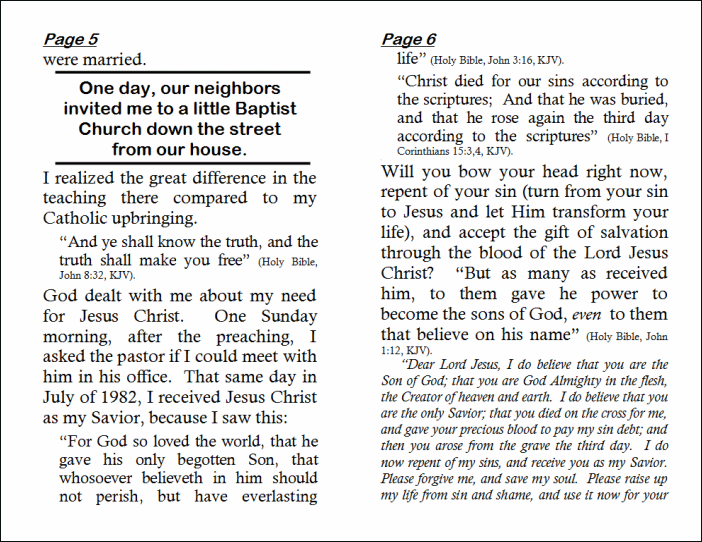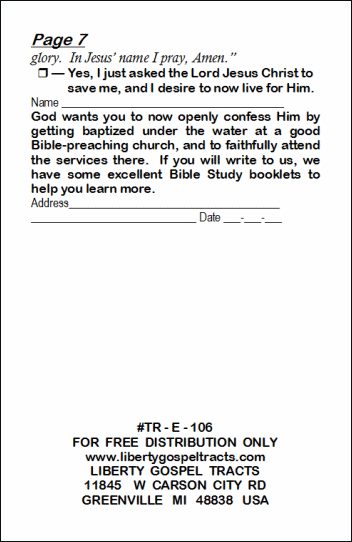 TEXT VERSION
 From the Streets to the Savior
My name is Jim Costigan.  I was born in Boston, Massachusetts, in 1953, and raised a Roman Catholic.
13 YEARS OLD
By the time I was 13 years old, I was using drugs, drinking alcohol, and involved in criminal activity.
"Even a child is known by his doings, whether his work be pure, and whether it be right" (Holy Bible, Proverbs 20:11, KJV)..
"Wine is a mocker, strong drink is raging: and whosoever is deceived thereby is not wise" (Holy Bible, Proverbs 20:1, KJV).
"But transgressors shall be taken in their own naughtiness" (Holy Bible, Proverbs 11:6, KJV).
17 YEARS OLD
At the age of 17, I ended up in jail for one year.  I was released, and then I became a heroin addict.
"Jesus answered them, Verily, verily, I say unto you, Whosoever committeth sin is the servant of sin" (Holy Bible, John 8:34, KJV).
"The way of transgressors is hard" (Holy Bible, Proverbs 13:15, KJV).
I am ashamed of the life that I once lived.
"The wise shall inherit glory: but shame shall be the promotion of fools" (Holy Bible, Proverbs 3:35, KJV).
"For I will declare mine iniquity; I will be sorry for my sin" (Holy Bible, Psalm 38:18, KJV).
"But where sin abounded, grace did much more abound" (Holy Bible, Romans 5:20, KJV).
"But God commendeth his love toward us, in that, while we were yet sinners, Christ died for us" (Holy Bible, Romans 5:8, KJV)
22 YEARS OLD
By the age of 22, I was arrested on many charges, and the courts gave me the option of going into the army, or spending 5 years in prison.  I joined the army, but was thrown out after basic training because I would not submit to authority.
"Whoso despiseth the word shall be destroyed: but he that feareth the commandment shall be rewarded" (Holy Bible, Proverbs 13:13, KJV).
"The integrity of the upright shall guide them: but the perverseness of transgressors shall destroy them" (Holy Bible, Proverbs 11:3, KJV).
Going my own way, I ended up homeless, living on the streets.
"And there wasted his substance with riotous living.  And when he had spent all, there arose a mighty famine in that land; and he began to be in want" (Holy Bible, Luke 15:13,14, KJV).
ACCIDENT!
I ended up being run over by a tractor trailer truck.  A motorist found me dying there in the gutter.  I was admitted to the hospital, and the Catholic priest administered to me the last rites that a Catholic receives when dying (which would have done nothing for my soul).  I am glad that God had another plan for me, because I would have gone to hell if I had died that night.
"And whosoever was not found written in the book of life was cast into the lake of fire" (Holy Bible, Revelation 20:15).
"I tell you, Nay: but, except ye repent, ye shall all likewise perish" (Holy Bible, Luke 13:3, KJV).
30+ OPERATIONS!
After 5 years in and out of the hospital, and 30 or so operations, I was then able to walk again without the aid of crutches or a cast.  In 1981, I met my wife, JoAnn, and we were married.
One day, our neighbors
invited me to a little Baptist
Church down the street
from our house.
I realized the great difference in the teaching there compared to my Catholic upbringing.
"And ye shall know the truth, and the truth shall make you free" (Holy Bible, John 8:32, KJV).
God dealt with me about my need for Jesus Christ.  One Sunday morning, after the preaching, I asked the pastor if I could meet with him in his office.  That same day in July of 1982, I received Jesus Christ as my Savior, because I saw this:
"For God so loved the world, that he gave his only begotten Son, that whosoever believeth in him should not perish, but have everlasting life" (Holy Bible, John 3:16, KJV).
"Christ died for our sins according to the scriptures;  And that he was buried, and that he rose again the third day according to the scriptures" (Holy Bible, I Corinthians 15:3,4, KJV).
.
Will you bow your head right now, repent of your sin (turn from your sin to Jesus and let Him transform your life), and accept the gift of salvation through the blood of the Lord Jesus Christ?  "But as many as received him, to them gave he power to become the sons of God, even to them that believe on his name" (Holy Bible, John 1:12, KJV).
"Dear Lord Jesus, I do believe that you are the Son of God; that you are God Almighty in the flesh, the Creator of heaven and earth.  I do believe that you are the only Savior; that you died on the cross for me, and gave your precious blood to pay my sin debt; and then you arose from the grave the third day.  I do now repent of my sins, and receive you as my Savior.  Please forgive me, and save my soul.  Please raise up my life from sin and shame, and use it now for your glory.  In Jesus' name I pray, Amen."
Yes, I just asked the Lord Jesus Christ to
          save me, and I desire to now live for Him.
Name _______________________________________
God wants you to now openly confess Him by getting baptized under the water at a good Bible-preaching church, and to faithfully attend the services there.  If you will write to us, we have some excellent Bible Study booklets to help you learn more.
Address_____________________________________
_____________________________ Date ___-___-___
#TR – E – 106
© 2015
FOR  FREE  DISTRIBUTION  ONLY
www.libertygospeltracts.com
LIBERTY  GOSPEL  TRACTS
11845    W  CARSON  CITY  RD
GREENVILLE   MI   48838   USA