Description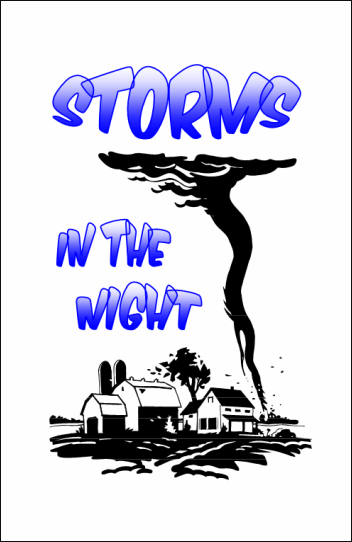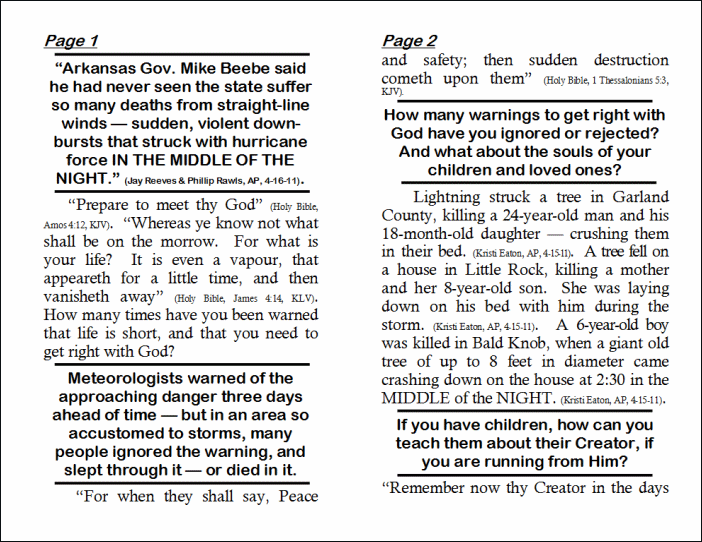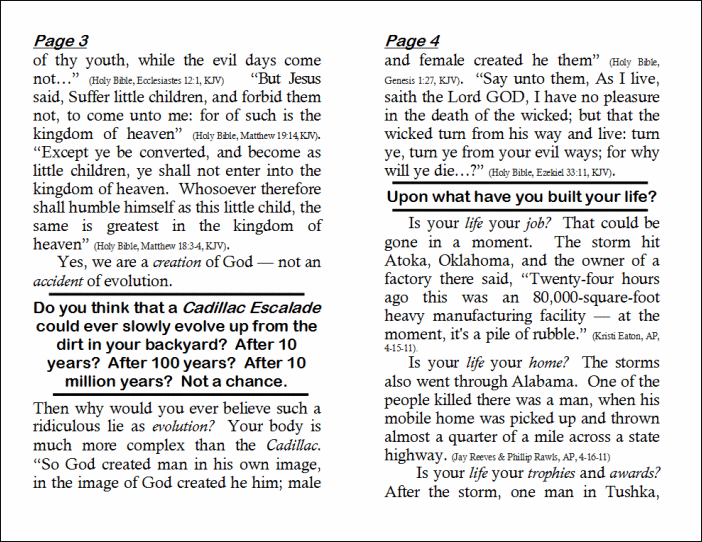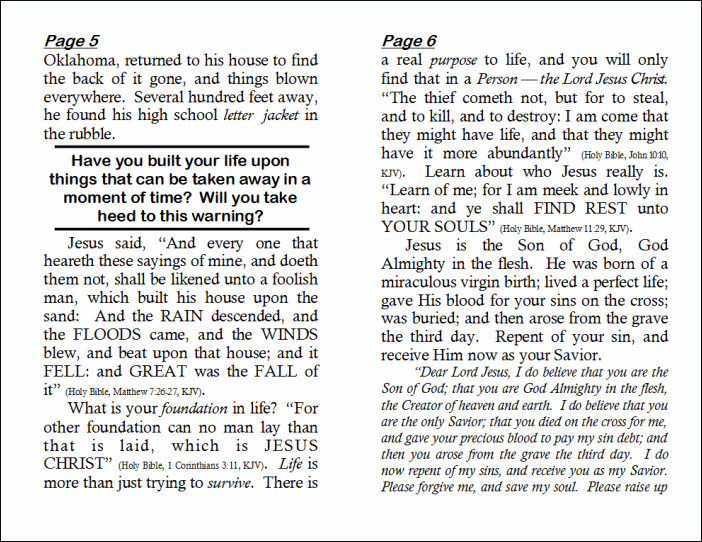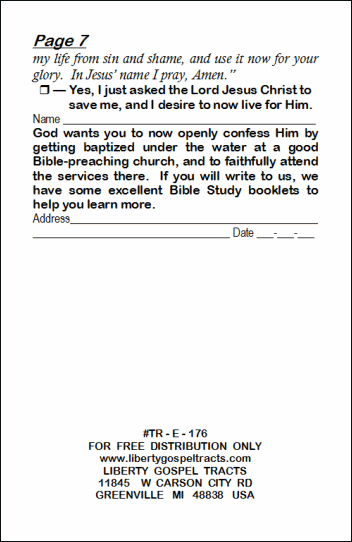 TEXT VERSION
"Arkansas Gov. Mike Beebe said
he had never seen the state suffer so many deaths from straight-line winds — sudden, violent down-bursts that struck with hurricane force IN THE MIDDLE OF THE NIGHT." (Jay Reeves & Phillip Rawls, AP, 4-16-11).
       "Prepare to meet thy God" (Holy Bible, Amos 4:12, KJV).  "Whereas ye know not what shall be on the morrow.  For what is your life?  It is even a vapour, that appeareth for a little time, and then vanisheth away" (Holy Bible, James 4:14, KLV).  How many times have you been warned that life is short, and that you need to get right with God?
Meteorologists warned of the approaching danger three days ahead of time — but in an area so accustomed to storms, many people ignored the warning, and slept through it — or died in it.
"For when they shall say, Peace and safety; then sudden destruction cometh upon them" (Holy Bible, 1 Thessalonians 5:3, KJV).
How many warnings to get right with God have you ignored or rejected?  And what about the souls of your children and loved ones?
Lightning struck a tree in Garland County, killing a 24-year-old man and his 18-month-old daughter — crushing them in their bed. (Kristi Eaton, AP, 4-15-11).  A tree fell on a house in Little Rock, killing a mother and her 8-year-old son.  She was laying down on his bed with him during the storm. (Kristi Eaton, AP, 4-15-11).  A 6-year-old boy was killed in Bald Knob, when a giant old tree of up to 8 feet in diameter came crashing down on the house at 2:30 in the MIDDLE of the NIGHT. (Kristi Eaton, AP, 4-15-11).
If you have children, how can you teach them about their Creator, if you are running from Him?
"Remember now thy Creator in the days of thy youth, while the evil days come not…" (Holy Bible, Ecclesiastes 12:1, KJV)   "But Jesus said, Suffer little children, and forbid them not, to come unto me: for of such is the kingdom of heaven" (Holy Bible, Matthew 19:14, KJV).  "Except ye be converted, and become as little children, ye shall not enter into the kingdom of heaven.  Whosoever therefore shall humble himself as this little child, the same is greatest in the kingdom of heaven" (Holy Bible, Matthew 18:3-4, KJV).
Yes, we are a creation of God — not an accident of evolution.
Do you think that a Cadillac Escalade could ever slowly evolve up from the dirt in your backyard?  After 10 years?  After 100 years?  After 10 million years?  Not a chance.
Then why would you ever believe such a ridiculous lie as evolution?  Your body is much more complex than the Cadillac.  "So God created man in his own image, in the image of God created he him; male and female created he them" (Holy Bible, Genesis 1:27, KJV).  "Say unto them, As I live, saith the Lord GOD, I have no pleasure in the death of the wicked; but that the wicked turn from his way and live: turn ye, turn ye from your evil ways; for why will ye die…?" (Holy Bible, Ezekiel 33:11, KJV).
Upon what have you built your life?
Is your life your job?  That could be gone in a moment.  The storm hit Atoka, Oklahoma, and the owner of a factory there said, "Twenty-four hours ago this was an 80,000-square-foot heavy manufacturing facility — at the moment, it's a pile of rubble." (Kristi Eaton, AP, 4-15-11).
Is your life your home?  The storms also went through Alabama.  One of the people killed there was a man, when his mobile home was picked up and thrown almost a quarter of a mile across a state highway. (Jay Reeves & Phillip Rawls, AP, 4-16-11)
Is your life your trophies and awards?  After the storm, one man in Tushka, Oklahoma, returned to his house to find the back of it gone, and things blown everywhere.  Several hundred feet away, he found his high school letter jacket in the rubble.
Have you built your life upon
things that can be taken away in a moment of time?  Will you take heed to this warning?
Jesus said, "And every one that heareth these sayings of mine, and doeth them not, shall be likened unto a foolish man, which built his house upon the sand:  And the RAIN descended, and the FLOODS came, and the WINDS blew, and beat upon that house; and it FELL: and GREAT was the FALL of it" (Holy Bible, Matthew 7:26-27, KJV).
What is your foundation in life?  "For other foundation can no man lay than that is laid, which is JESUS CHRIST" (Holy Bible, 1 Corinthians 3:11, KJV).  Life is more than just trying to survive.  There is a real purpose to life, and you will only find that in a Person — the Lord Jesus Christ.  "The thief cometh not, but for to steal, and to kill, and to destroy: I am come that they might have life, and that they might have it more abundantly" (Holy Bible, John 10:10, KJV).  Learn about who Jesus really is.  "Learn of me; for I am meek and lowly in heart: and ye shall FIND REST unto YOUR SOULS" (Holy Bible, Matthew 11:29, KJV).
Jesus is the Son of God, God Almighty in the flesh.  He was born of a miraculous virgin birth; lived a perfect life; gave His blood for your sins on the cross; was buried; and then arose from the grave the third day.  Repent of your sin, and receive Him now as your Savior.
"Dear Lord Jesus, I do believe that you are the Son of God; that you are God Almighty in the flesh, the Creator of heaven and earth.  I do believe that you are the only Savior; that you died on the cross for me, and gave your precious blood to pay my sin debt; and then you arose from the grave the third day.  I do now repent of my sins, and receive you as my Savior.  Please forgive me, and save my soul.  Please raise up my life from sin and shame, and use it now for your glory.  In Jesus' name I pray, Amen."
Yes, I just asked the Lord Jesus Christ to
          save me, and I desire to now live for Him.
Name _____________________________________________
God wants you to now openly confess Him by getting baptized under the water at a good Bible-preaching church, and to faithfully attend the services there.  If you will write to us, we have some excellent Bible Study booklets to help you learn more.
Address____________________________________________
___________________________________ Date ___-___-___
#TR – E – 176
FOR  FREE  DISTRIBUTION  ONLY
© 2014
LIBERTY  GOSPEL  TRACTS
11845    W  CARSON  CITY  RD
GREENVILLE   MI   48838   USA