Description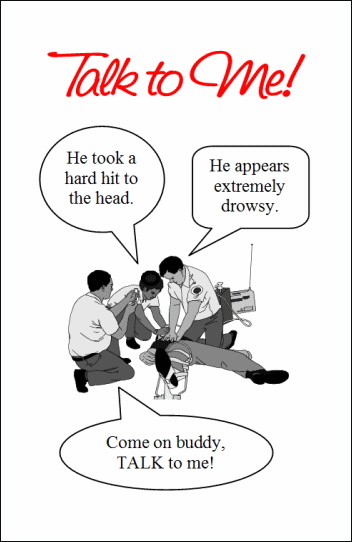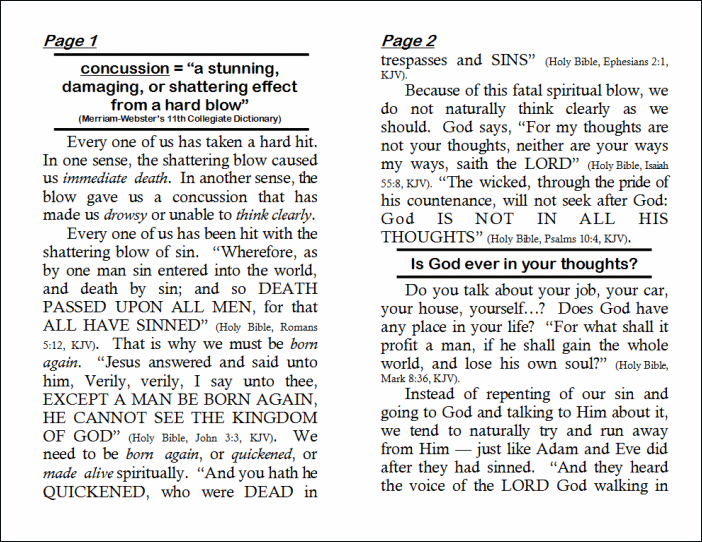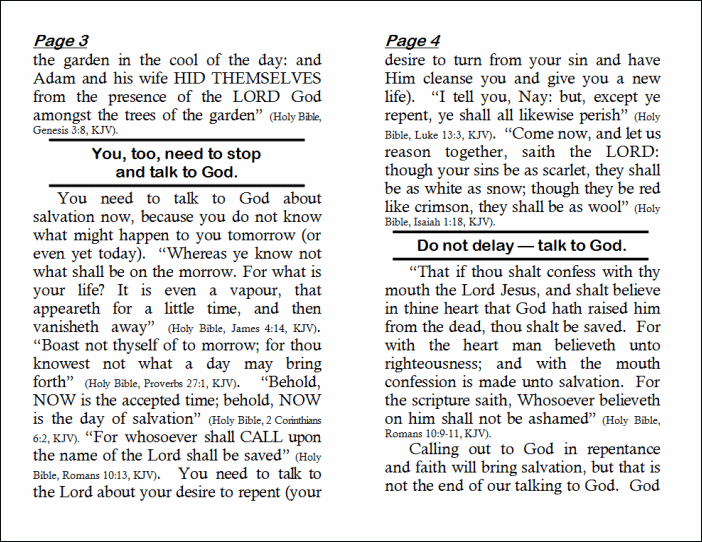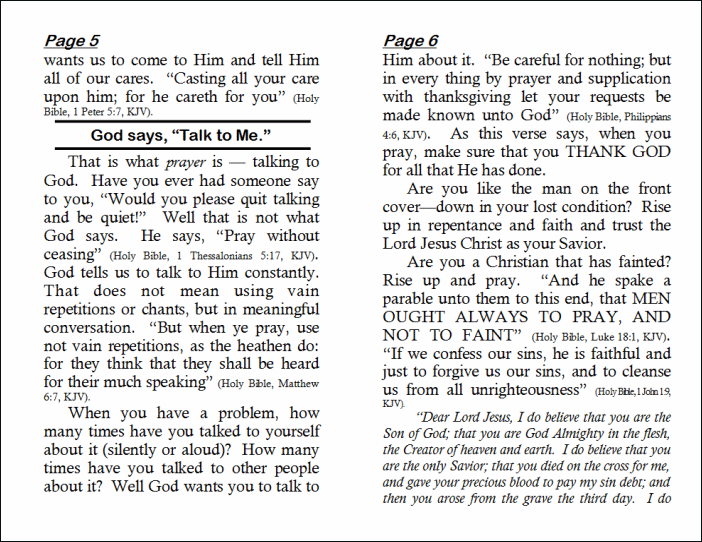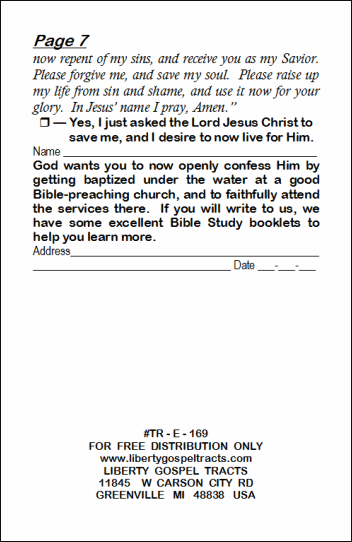 TEXT VERSION
 Talk To Me
concussion = "a stunning, damaging, or shattering effect from a hard blow"
(Merriam-Webster's 11th Collegiate Dictionary)
       Every one of us has taken a hard hit.  In one sense, the shattering blow caused us immediate death.  In another sense, the blow gave us a concussion that has made us drowsy or unable to think clearly.
       Every one of us has been hit with the shattering blow of sin.  "Wherefore, as by one man sin entered into the world, and death by sin; and so DEATH PASSED UPON ALL MEN, for that ALL HAVE SINNED" (Holy Bible, Romans 5:12, KJV).  That is why we must be born again.  "Jesus answered and said unto him, Verily, verily, I say unto thee, EXCEPT A MAN BE BORN AGAIN, HE CANNOT SEE THE KINGDOM OF GOD" (Holy Bible, John 3:3, KJV).  We need to be born again, or quickened, or made alive spiritually.  "And you hath he QUICKENED, who were DEAD in trespasses and SINS" (Holy Bible, Ephesians 2:1, KJV).
Because of this fatal spiritual blow, we do not naturally think clearly as we should.  God says, "For my thoughts are not your thoughts, neither are your ways my ways, saith the LORD" (Holy Bible, Isaiah 55:8, KJV).  "The wicked, through the pride of his countenance, will not seek after God: God IS NOT IN ALL HIS THOUGHTS" (Holy Bible, Psalms 10:4, KJV).
Is God ever in your thoughts?
Do you talk about your job, your car, your house, yourself…?  Does God have any place in your life?  "For what shall it profit a man, if he shall gain the whole world, and lose his own soul?" (Holy Bible, Mark 8:36, KJV).
Instead of repenting of our sin and going to God and talking to Him about it, we tend to naturally try and run away from Him — just like Adam and Eve did after they had sinned.  "And they heard the voice of the LORD God walking in the garden in the cool of the day: and Adam and his wife HID THEMSELVES from the presence of the LORD God amongst the trees of the garden" (Holy Bible, Genesis 3:8, KJV).
You, too, need to stop
and talk to God.
You need to talk to God about salvation now, because you do not know what might happen to you tomorrow (or even yet today).  "Whereas ye know not what shall be on the morrow. For what is your life? It is even a vapour, that appeareth for a little time, and then vanisheth away" (Holy Bible, James 4:14, KJV).  "Boast not thyself of to morrow; for thou knowest not what a day may bring forth" (Holy Bible, Proverbs 27:1, KJV).  "Behold, NOW is the accepted time; behold, NOW is the day of salvation" (Holy Bible, 2 Corinthians 6:2, KJV).  "For whosoever shall CALL upon the name of the Lord shall be saved" (Holy Bible, Romans 10:13, KJV).  You need to talk to the Lord about your desire to repent (your desire to turn from your sin and have Him cleanse you and give you a new life).  "I tell you, Nay: but, except ye repent, ye shall all likewise perish" (Holy Bible, Luke 13:3, KJV).  "Come now, and let us reason together, saith the LORD: though your sins be as scarlet, they shall be as white as snow; though they be red like crimson, they shall be as wool" (Holy Bible, Isaiah 1:18, KJV).
Do not delay — talk to God.
"That if thou shalt confess with thy mouth the Lord Jesus, and shalt believe in thine heart that God hath raised him from the dead, thou shalt be saved.  For with the heart man believeth unto righteousness; and with the mouth confession is made unto salvation.  For the scripture saith, Whosoever believeth on him shall not be ashamed" (Holy Bible, Romans 10:9-11, KJV).
Calling out to God in repentance and faith will bring salvation, but that is not the end of our talking to God.  God wants us to come to Him and tell Him all of our cares.  "Casting all your care upon him; for he careth for you" (Holy Bible, 1 Peter 5:7, KJV).
God says, "Talk to Me."
That is what prayer is — talking to God.  Have you ever had someone say to you, "Would you please quit talking and be quiet!"  Well that is not what God says.  He says, "Pray without ceasing" (Holy Bible, 1 Thessalonians 5:17, KJV).  God tells us to talk to Him constantly.  That does not mean using vain repetitions or chants, but in meaningful conversation.  "But when ye pray, use not vain repetitions, as the heathen do: for they think that they shall be heard for their much speaking" (Holy Bible, Matthew 6:7, KJV).
When you have a problem, how many times have you talked to yourself about it (silently or aloud)?  How many times have you talked to other people about it?  Well God wants you to talk to Him about it.  "Be careful for nothing; but in every thing by prayer and supplication with thanksgiving let your requests be made known unto God" (Holy Bible, Philippians 4:6, KJV).  As this verse says, when you pray, make sure that you THANK GOD for all that He has done.
Are you like the man on the front cover—down in your lost condition?  Rise up in repentance and faith and trust the Lord Jesus Christ as your Savior.
Are you a Christian that has fainted?  Rise up and pray.  "And he spake a parable unto them to this end, that MEN OUGHT ALWAYS TO PRAY, AND NOT TO FAINT" (Holy Bible, Luke 18:1, KJV).  "If we confess our sins, he is faithful and just to forgive us our sins, and to cleanse us from all unrighteousness" (Holy Bible, 1 John 1:9, KJV).
"Dear Lord Jesus, I do believe that you are the Son of God; that you are God Almighty in the flesh, the Creator of heaven and earth.  I do believe that you are the only Savior; that you died on the cross for me, and gave your precious blood to pay my sin debt; and then you arose from the grave the third day.  I do now repent of my sins, and receive you as my Savior.  Please forgive me, and save my soul.  Please raise up my life from sin and shame, and use it now for your glory.  In Jesus' name I pray, Amen."
Yes, I just asked the Lord Jesus Christ to
          save me, and I desire to now live for Him.
Name _____________________________________________
God wants you to now openly confess Him by getting baptized under the water at a good Bible-preaching church, and to faithfully attend the services there.  If you will write to us, we have some excellent Bible Study booklets to help you learn more.
Address____________________________________________
___________________________________ Date ___-___-___
#TR – E – 169
FOR  FREE  DISTRIBUTION  ONLY
© 2014
LIBERTY  GOSPEL  TRACTS
11845    W  CARSON  CITY  RD
GREENVILLE   MI   48838   USA