Description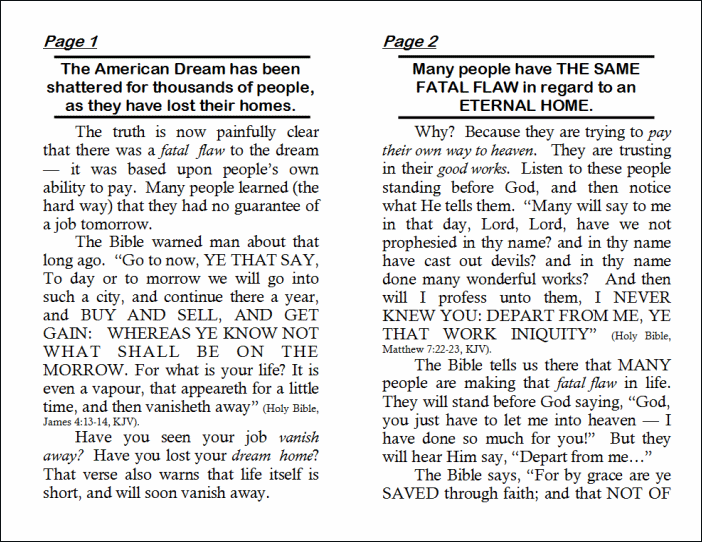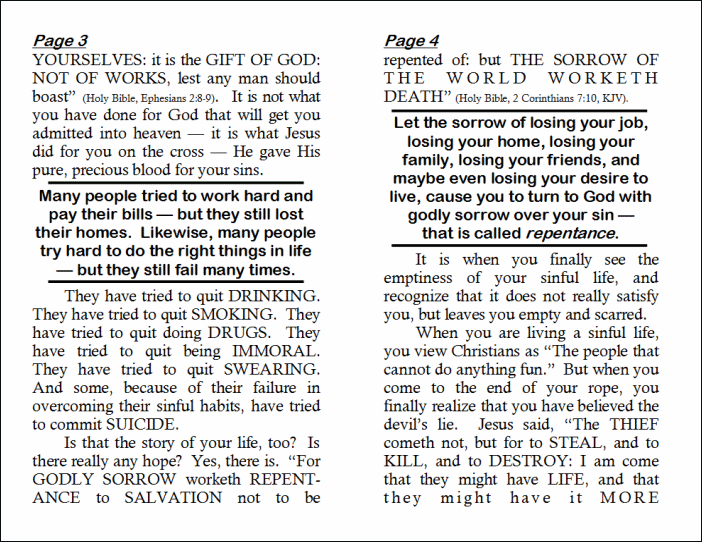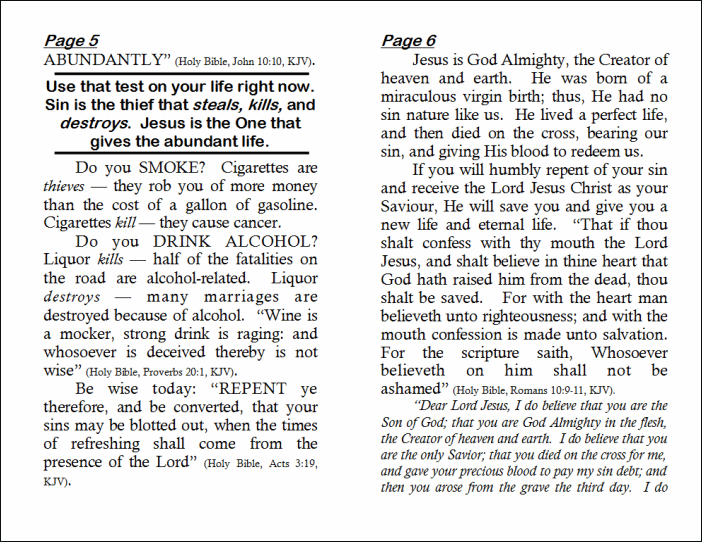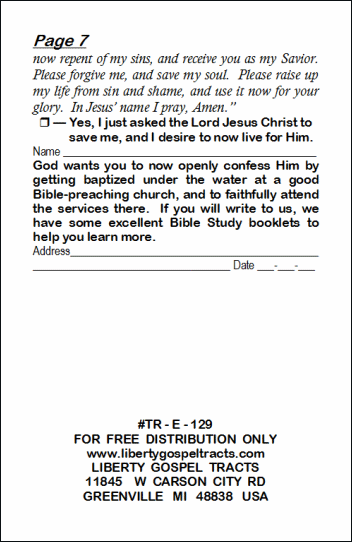 TEXT VERSION
The American Dream
The American Dream has been shattered for thousands of people, as they have lost their homes.
         The truth is now painfully clear that there was a fatal flaw to the dream — it was based upon people's own ability to pay.  Many people learned (the hard way) that they had no guarantee of a job tomorrow.
         The Bible warned man about that long ago.  "Go to now, YE THAT SAY, To day or to morrow we will go into such a city, and continue there a year, and BUY AND SELL, AND GET GAIN:   WHEREAS YE KNOW NOT WHAT SHALL BE ON THE MORROW. For what is your life? It is even a vapour, that appeareth for a little time, and then vanisheth away" (Holy Bible, James 4:13-14, KJV).
Have you seen your job vanish away?  Have you lost your dream home?  That verse also warns that life itself is short, and will soon vanish away.
Many people have THE SAME
FATAL FLAW in regard to an ETERNAL HOME.
Why?  Because they are trying to pay their own way to heaven.  They are trusting in their good works.  Listen to these people standing before God, and then notice what He tells them.  "Many will say to me in that day, Lord, Lord, have we not prophesied in thy name? and in thy name have cast out devils? and in thy name done many wonderful works?   And then will I profess unto them, I NEVER KNEW YOU: DEPART FROM ME, YE THAT WORK INIQUITY" (Holy Bible, Matthew 7:22-23, KJV).
The Bible tells us there that MANY people are making that fatal flaw in life.  They will stand before God saying, "God, you just have to let me into heaven — I have done so much for you!"  But they will hear Him say, "Depart from me…"
The Bible says, "For by grace are ye SAVED through faith; and that NOT OF YOURSELVES: it is the GIFT OF GOD: NOT OF WORKS, lest any man should boast" (Holy Bible, Ephesians 2:8-9).  It is not what you have done for God that will get you admitted into heaven — it is what Jesus did for you on the cross — He gave His pure, precious blood for your sins.
Many people tried to work hard and pay their bills — but they still lost their homes.  Likewise, many people try hard to do the right things in life — but they still fail many times.
They have tried to quit DRINKING.  They have tried to quit SMOKING.  They have tried to quit doing DRUGS.  They have tried to quit being IMMORAL.  They have tried to quit SWEARING.  And some, because of their failure in overcoming their sinful habits, have tried to commit SUICIDE.
Is that the story of your life, too?  Is there really any hope?  Yes, there is.  "For GODLY SORROW worketh REPENT-ANCE to SALVATION not to be repented of: but THE SORROW OF THE WORLD WORKETH DEATH" (Holy Bible, 2 Corinthians 7:10, KJV).
Let the sorrow of losing your job, losing your home, losing your family, losing your friends, and maybe even losing your desire to live, cause you to turn to God with godly sorrow over your sin —
that is called repentance.
It is when you finally see the emptiness of your sinful life, and recognize that it does not really satisfy you, but leaves you empty and scarred.
When you are living a sinful life, you view Christians as "The people that cannot do anything fun."  But when you come to the end of your rope, you finally realize that you have believed the devil's lie.  Jesus said, "The THIEF cometh not, but for to STEAL, and to KILL, and to DESTROY: I am come that they might have LIFE, and that they might have it MORE ABUNDANTLY" (Holy Bible, John 10:10, KJV).
Use that test on your life right now.  Sin is the thief that steals, kills, and destroys.  Jesus is the One that gives the abundant life.
Do you SMOKE?  Cigarettes are thieves — they rob you of more money than the cost of a gallon of gasoline.  Cigarettes kill — they cause cancer.
Do you DRINK ALCOHOL?  Liquor kills — half of the fatalities on the road are alcohol-related.  Liquor destroys — many marriages are destroyed because of alcohol.  "Wine is a mocker, strong drink is raging: and whosoever is deceived thereby is not wise" (Holy Bible, Proverbs 20:1, KJV).
Be wise today: "REPENT ye therefore, and be converted, that your sins may be blotted out, when the times of refreshing shall come from the presence of the Lord" (Holy Bible, Acts 3:19, KJV).
Jesus is God Almighty, the Creator of heaven and earth.  He was born of a miraculous virgin birth; thus, He had no sin nature like us.  He lived a perfect life, and then died on the cross, bearing our sin, and giving His blood to redeem us.
If you will humbly repent of your sin and receive the Lord Jesus Christ as your Saviour, He will save you and give you a new life and eternal life.  "That if thou shalt confess with thy mouth the Lord Jesus, and shalt believe in thine heart that God hath raised him from the dead, thou shalt be saved.   For with the heart man believeth unto righteousness; and with the mouth confession is made unto salvation.   For the scripture saith, Whosoever believeth on him shall not be ashamed" (Holy Bible, Romans 10:9-11, KJV).
"Dear Lord Jesus, I do believe that you are the Son of God; that you are God Almighty in the flesh, the Creator of heaven and earth.  I do believe that you are the only Savior; that you died on the cross for me, and gave your precious blood to pay my sin debt; and then you arose from the grave the third day.  I do now repent of my sins, and receive you as my Savior.  Please forgive me, and save my soul.  Please raise up my life from sin and shame, and use it now for your glory.  In Jesus' name I pray, Amen."
#TR – E – 129
© 2015
FOR  FREE  DISTRIBUTION  ONLY
www.libertygospeltracts.com
LIBERTY  GOSPEL  TRACTS
11845    W  CARSON  CITY  RD
GREENVILLE   MI   48838   USA