Description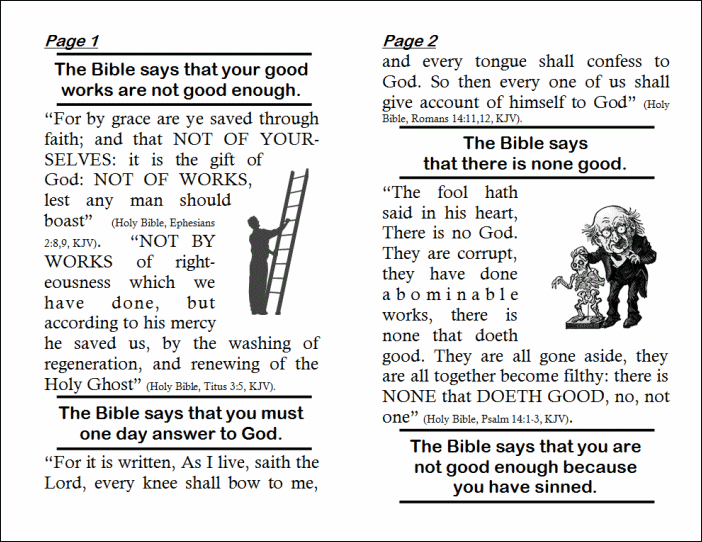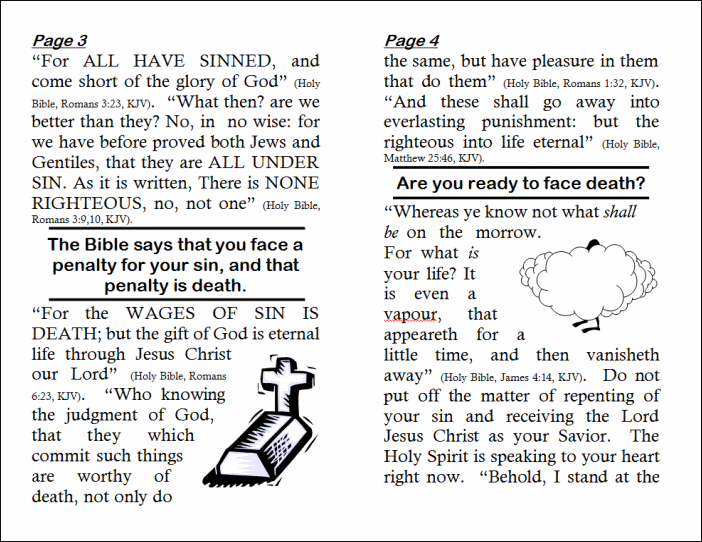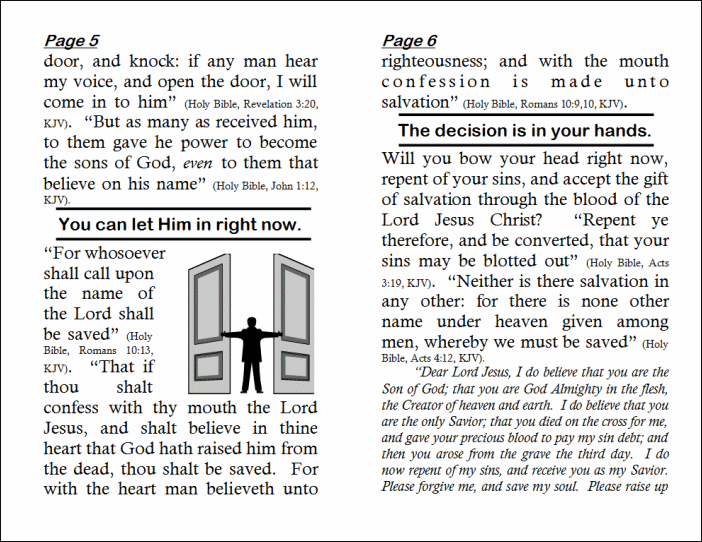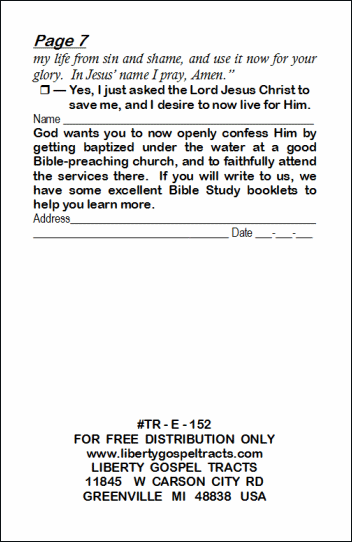 TEXT VERSION
The Bible says that your good
works are not good enough.
"For by grace are ye saved through faith; and that NOT OF YOUR-SELVES: it is the gift of God: NOT OF WORKS, lest any man should boast" (Holy Bible, Ephesians 2:8,9, KJV).  "NOT BY WORKS of right-eousness which we have done, but according to his mercy he saved us, by the washing of regeneration, and renewing of the Holy Ghost" (Holy Bible, Titus 3:5, KJV).
The Bible says that you must one day answer to God.
"For it is written, As I live, saith the Lord, every knee shall bow to me, and every tongue shall confess to God. So then every one of us shall give account of himself to God" (Holy Bible, Romans 14:11,12, KJV).
The Bible says that there is none good.
"The fool hath said in his heart, There is no God. They are corrupt, they have done abominable works, there is none that doeth good. They are all gone aside, they are all together become filthy: there is NONE that DOETH GOOD, no, not one" (Holy Bible, Psalm 14:1-3, KJV).
The Bible says that you are not good enough
because you have sinned.
"For ALL HAVE SINNED, and come short of the glory of God" (Holy Bible, Romans 3:23, KJV).  "What then? are we better than they? No, in  no wise: for we have before proved both Jews and Gentiles, that they are ALL UNDER SIN. As it is written, There is NONE RIGHTEOUS, no, not one" (Holy Bible, Romans 3:9,10, KJV).
The Bible says that you face a penalty for your sin,
 and that penalty is death.
"For the WAGES OF SIN IS DEATH; but the gift of God is eternal life through Jesus Christ our Lord" (Holy Bible, Romans 6:23, KJV).  "Who knowing the judgment of God, that they which commit such things are worthy of death, not only do the same, but have pleasure in them that do them" (Holy Bible, Romans 1:32, KJV).  "And these shall go away into everlasting punishment: but the righteous into life eternal" (Holy Bible, Matthew 25:46, KJV).
Are you ready to face death?
"Whereas ye know not what shall
be on the morrow. For what is your life? It is even a vapour, that appeareth for a little time, and then vanisheth away" (Holy Bible, James 4:14, KJV).  Do not put off the matter of repenting of your sin and receiving the Lord Jesus Christ as your Savior.  The Holy Spirit is speaking to your heart right now.  "Behold, I stand at the door, and knock: if any man hear my voice, and open the door, I will come in to him" (Holy Bible, Revelation 3:20, KJV).  "But as many as received him, to them gave he power to become the sons of God, even to them that believe on his name" (Holy Bible, John 1:12, KJV).
You can let Him in right now.
"For whosoever shall call upon the name of the Lord shall be saved" (Holy Bible, Romans 10:13, KJV).  "That if thou shalt confess with thy mouth the Lord Jesus, and shalt believe in thine heart that God hath raised him from the dead, thou shalt be saved.  For with the heart man believeth unto righteousness; and with the mouth confession is made unto salvation" (Holy Bible, Romans 10:9,10, KJV).
The decision is in your hands.
Will you bow your head right now, repent of your sins, and accept the gift of salvation through the blood of the Lord Jesus Christ?  "Repent ye therefore, and be converted, that your sins may be blotted out" (Holy Bible, Acts 3:19, KJV).  "Neither is there salvation in any other: for there is none other name under heaven given among men, whereby we must be saved" (Holy Bible, Acts 4:12, KJV).
"Dear Lord Jesus, I do believe that you are the Son of God; that you are God Almighty in the flesh, the Creator of heaven and earth.  I do believe that you are the only Savior; that you died on the cross for me, and gave your precious blood to pay my sin debt; and then you arose from the grave the third day.  I do now repent of my sins, and receive you as my Savior.  Please forgive me, and save my soul.  Please raise up my life from sin and shame, and use it now for your glory.  In Jesus' name I pray, Amen."
Yes, I just asked the Lord Jesus Christ to
          save me, and I desire to now live for Him.
Name _____________________________________________
God wants you to now openly confess Him by getting baptized under the water at a good Bible-preaching church, and to faithfully attend the services there.  If you will write to us, we have some excellent Bible Study booklets to help you learn more.
Address____________________________________________
___________________________________ Date ___-___-___
#TR – E – 152
© 2014
FOR  FREE  DISTRIBUTION  ONLY
www.libertygospeltracts.com
LIBERTY  GOSPEL  TRACTS
11845    W  CARSON  CITY  RD
GREENVILLE   MI   48838   USA