Description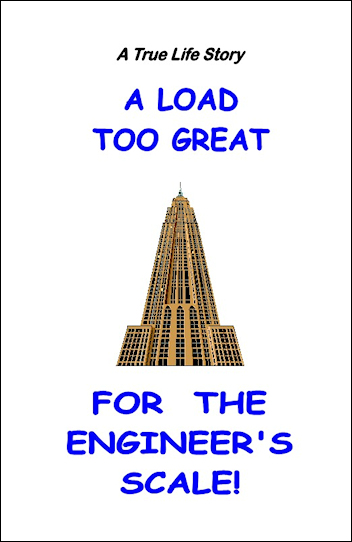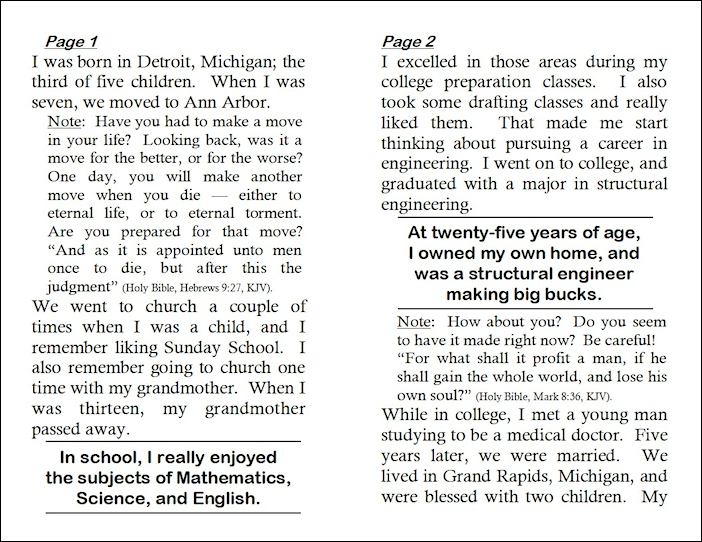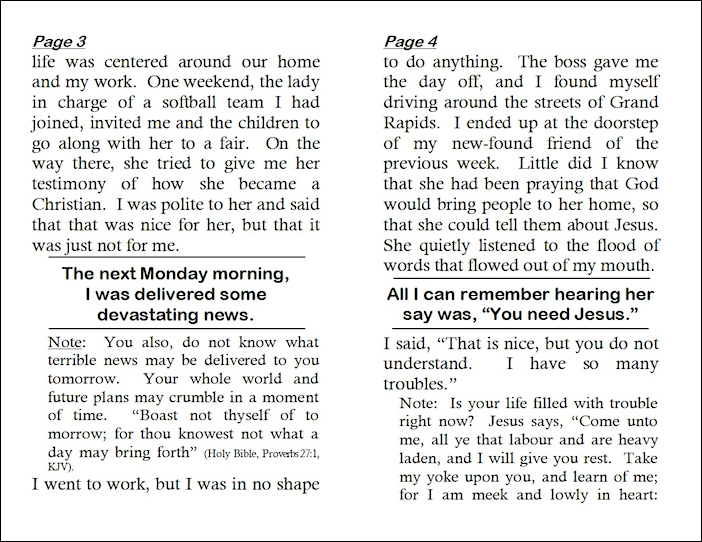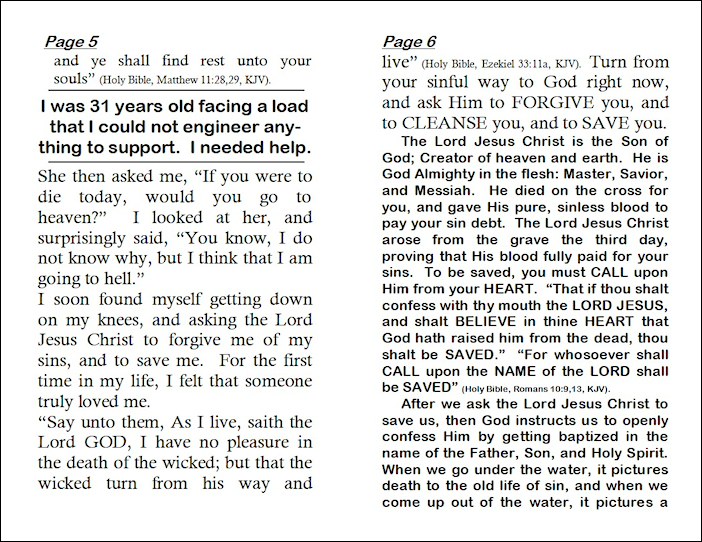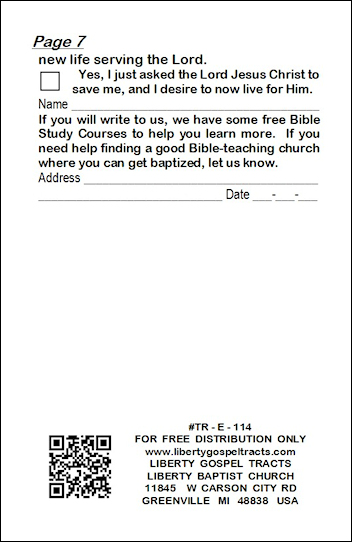 A True Life Story
A Load Too Great for the Engineer's Scale
I was born in Detroit, Michigan; the third of five children.  When I was seven, we moved to Ann Arbor.
Note:  Have you had to make a move in your life?  Looking back, was it a move for the better, or for the worse?  One day, you will make another move when you die — either to eternal life, or to eternal torment.  Are you prepared for that move?  "And as it is appointed unto men once to die, but after this the judgment" (Holy Bible, Hebrews 9:27, KJV).
We went to church a couple of times when I was a child, and I remember liking Sunday School.  I also remember going to church one time with my grandmother.  When I was thirteen, my grandmother passed away.
In school, I really enjoyed
the subjects of Mathematics, Science, and English.
I excelled in those areas during my college preparation classes.  I also took some drafting classes and really liked them.  That made me start thinking about pursuing a career in engineering.  I went on to college, and graduated with a major in structural engineering.
At twenty-five years of age,
I owned my own home, and
was a structural engineer
making big bucks.
Note:  How about you?  Do you seem to have it made right now?  Be careful!
"For what shall it profit a man, if he shall gain the whole world, and lose his own soul?" (Holy Bible, Mark 8:36, KJV).
While in college, I met a young man studying to be a medical doctor.  Five years later, we were married.  We lived in Grand Rapids, Michigan, and were blessed with two children.  My life was centered around our home and my work.  One weekend, the lady in charge of a softball team I had joined, invited me and the children to go along with her to a fair.  On the way there, she tried to give me her testimony of how she became a Christian.  I was polite to her and said that that was nice for her, but that it was just not for me.
The next Monday morning,
I was delivered some
devastating news.
Note:  You also, do not know what terrible news may be delivered to you tomorrow.  Your whole world and future plans may crumble in a moment of time.  "Boast not thyself of to morrow; for thou knowest not what a day may bring forth" (Holy Bible, Proverbs 27:1, KJV).
I went to work, but I was in no shape to do anything.  The boss gave me the day off, and I found myself driving around the streets of Grand Rapids.  I ended up at the doorstep of my new-found friend of the previous week.  Little did I know that she had been praying that God would bring people to her home, so that she could tell them about Jesus.  She quietly listened to the flood of words that flowed out of my mouth.
All I can remember hearing her say was, "You need Jesus."
I said, "That is nice, but you do not understand.  I have so many troubles."
Note:  Is your life filled with trouble right now?  Jesus says, "Come unto me, all ye that labour and are heavy laden, and I will give you rest.  Take my yoke upon you, and learn of me; for I am meek and lowly in heart:  and ye shall find rest unto your souls" (Holy Bible, Matthew 11:28,29, KJV).
I was 31 years old facing a load that I could not engineer any-thing to support.  I needed help.
She then asked me, "If you were to die today, would you go to heaven?"  I looked at her, and surprisingly said, "You know, I do not know why, but I think that I am going to hell."
I soon found myself getting down on my knees, and asking the Lord Jesus Christ to forgive me of my sins, and to save me.  For the first time in my life, I felt that someone truly loved me.
"Say unto them, As I live, saith the Lord GOD, I have no pleasure in the death of the wicked; but that the wicked turn from his way and live" (Holy Bible, Ezekiel 33:11a, KJV).  Turn from your sinful way to God right now, and ask Him to FORGIVE you, and to CLEANSE you, and to SAVE you.
The Lord Jesus Christ is the Son of God; Creator of heaven and earth.  He is God Almighty in the flesh: Master, Savior, and Messiah.  He died on the cross for you, and gave His pure, sinless blood to pay your sin debt.  The Lord Jesus Christ arose from the grave the third day, proving that His blood fully paid for your sins.  To be saved, you must CALL upon Him from your HEART.  "That if thou shalt confess with thy mouth the LORD JESUS, and shalt BELIEVE in thine HEART that God hath raised him from the dead, thou shalt be SAVED."  "For whosoever shall CALL upon the NAME of the LORD shall be SAVED" (Holy Bible, Romans 10:9,13, KJV).
After we ask the Lord Jesus Christ to save us, then God instructs us to openly confess Him by getting baptized in the name of the Father, Son, and Holy Spirit.  When we go under the water, it pictures death to the old life of sin, and when we come up out of the water, it pictures a new life serving the Lord.
Yes, I just asked the Lord Jesus Christ to save me, and I desire to now live for Him.
Name _______________________________________
If you will write to us, we have some free Bible Study Courses to help you learn more.  If you need help finding a good Bible-teaching church where you can get baptized, let us know.
Address _____________________________________
_____________________________ Date ___-___-___
#TR – E – 114
FOR  FREE  DISTRIBUTION  ONLY
www.libertygospeltracts.com
LIBERTY  GOSPEL  TRACTS
LIBERTY  BAPTIST  CHURCH
11845    W  CARSON  CITY  RD
GREENVILLE   MI   48838   USA