Description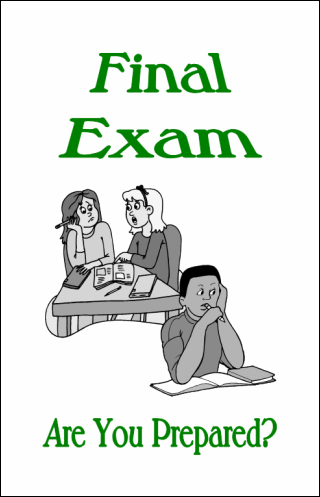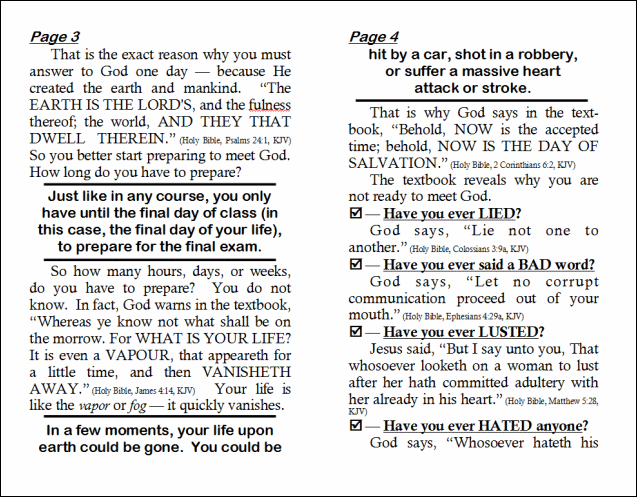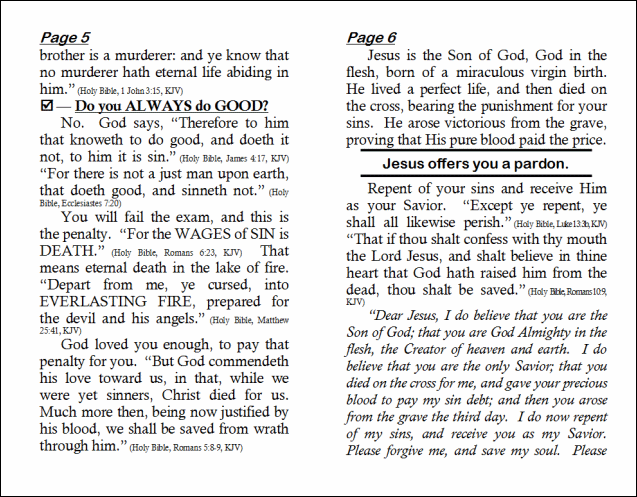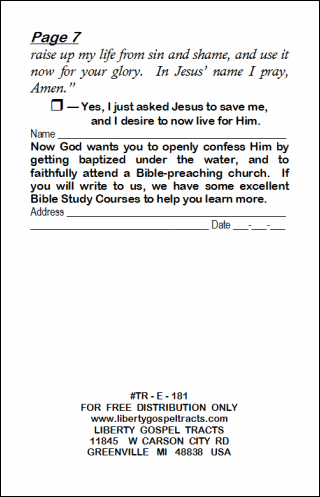 TEXT VERSION
Are you prepared for your
FINAL EXAM?
       How well do you think you would do on a final exam, if you never opened the textbook or attended class one time?  You would probably fail the exam.
Your LAST final exam.
       One day, you are going to take your LAST final exam.  High school is going to be over, and college and graduate school are finally going to be finished.  Is that the time to finally celebrate?  No, because there is still ONE final exam for you to take after that.  For what course?
Life 101
Yes, at the end of this course (at the end of your life), you will stand before Almighty God who created all things.  "So then EVERY ONE OF US shall GIVE ACCOUNT OF HIMSELF TO GOD." (Holy Bible, Romans 14:12, KJV)  Are you really ready for that?  Not if you have failed to open the textbook (the Bible), or attended class (a good, Bible-preaching church).  When you stand before God, you better be prepared.  "PREPARE to meet thy God…" (Holy Bible, Amos 4:12, KJV)
"Why do I have to stand before God for this FINAL EXAM?"
If you really do not know the answer to that question, then it shows that you have never opened the textbook for Life 101, because the first ten words are, "In the beginning GOD CREATED the HEAVEN and the EARTH." (Holy Bible, Genesis 1:1, KJV)  Just down the page is written, "So GOD CREATED MAN in his own image, in the image of God created he him; male and female created he them." (Holy Bible, Genesis 1:27,KJV)
As you well know, if you create, or invent, or compose something, then that makes you the owner of that work.  With that ownership comes certain rights (copyrights, patents, etc.).
That is the exact reason why you must answer to God one day — because He created the earth and mankind.  "The EARTH IS THE LORD'S, and the fulness thereof; the world, AND THEY THAT DWELL THEREIN." (Holy Bible, Psalms 24:1, KJV)  So you better start preparing to meet God.  How long do you have to prepare?
Just like in any course, you only
have until the final day of class (in this case, the final day of your life), to prepare for the final exam.
So how many hours, days, or weeks, do you have to prepare?  You do not know.  In fact, God warns in the textbook, "Whereas ye know not what shall be on the morrow. For WHAT IS YOUR LIFE? It is even a VAPOUR, that appeareth for a little time, and then VANISHETH AWAY." (Holy Bible, James 4:14, KJV)  Your life is like the vapor or fog — it quickly vanishes.
In a few moments, your life upon earth could be gone.  You could be hit by a car, shot in a robbery,
or suffer a massive heart
attack or stroke.
That is why God says in the text-book, "Behold, NOW is the accepted time; behold, NOW IS THE DAY OF SALVATION." (Holy Bible, 2 Corinthians 6:2, KJV)
The textbook reveals why you are not ready to meet God.
Have you ever LIED?
God says, "Lie not one to another." (Holy Bible, Colossians 3:9a, KJV)
Have you ever said a BAD word?
God says, "Let no corrupt communication proceed out of your mouth." (Holy Bible, Ephesians 4:29a, KJV)
 Have you ever LUSTED?
Jesus said, "But I say unto you, That whosoever looketh on a woman to lust after her hath committed adultery with her already in his heart." (Holy Bible, Matthew 5:28, KJV)
Have you ever HATED anyone?
God says, "Whosoever hateth his brother is a murderer: and ye know that no murderer hath eternal life abiding in him." (Holy Bible, 1 John 3:15, KJV)
Do you ALWAYS do GOOD?
No.  God says, "Therefore to him that knoweth to do good, and doeth it not, to him it is sin." (Holy Bible, James 4:17, KJV)  "For there is not a just man upon earth, that doeth good, and sinneth not." (Holy Bible, Ecclesiastes 7:20)
You will fail the exam, and this is the penalty.  "For the WAGES of SIN is DEATH." (Holy Bible, Romans 6:23, KJV)  That means eternal death in the lake of fire.  "Depart from me, ye cursed, into EVERLASTING FIRE, prepared for the devil and his angels." (Holy Bible, Matthew 25:41, KJV)
God loved you enough, to pay that penalty for you.  "But God commendeth his love toward us, in that, while we were yet sinners, Christ died for us.  Much more then, being now justified by his blood, we shall be saved from wrath through him." (Holy Bible, Romans 5:8-9, KJV)
Jesus is the Son of God, God in the flesh, born of a miraculous virgin birth.  He lived a perfect life, and then died on the cross, bearing the punishment for your sins.  He arose victorious from the grave, proving that His pure blood paid the price.
Jesus offers you a pardon.
Repent of your sins and receive Him as your Savior.  "Except ye repent, ye shall all likewise perish." (Holy Bible, Luke 13:3b, KJV)  "That if thou shalt confess with thy mouth the Lord Jesus, and shalt believe in thine heart that God hath raised him from the dead, thou shalt be saved." (Holy Bible, Romans 10:9, KJV)
"Dear Lord Jesus, I do believe that you are the Son of God; that you are God Almighty in the flesh, the Creator of heaven and earth.  I do believe that you are the only Savior; that you died on the cross for me, and gave your precious blood to pay my sin debt; and then you arose from the grave the third day.  I do now repent of my sins, and receive you as my Savior.  Please forgive me, and save my soul.  Please raise up my life from sin and shame, and use it now for your glory.  In Jesus' name I pray, Amen."
Yes, I just asked the Lord Jesus Christ to
          save me, and I desire to now live for Him.
Name _____________________________________________
God wants you to now openly confess Him by getting baptized under the water at a good Bible-preaching church, and to faithfully attend the services there.  If you will write to us, we have some excellent Bible Study booklets to help you learn more.
Address____________________________________________
___________________________________ Date ___-___-___
#TR – E – 181
FOR  FREE  DISTRIBUTION  ONLY
© 2014
LIBERTY  GOSPEL  TRACTS
11845    W  CARSON  CITY  RD
GREENVILLE   MI   48838   USA