Description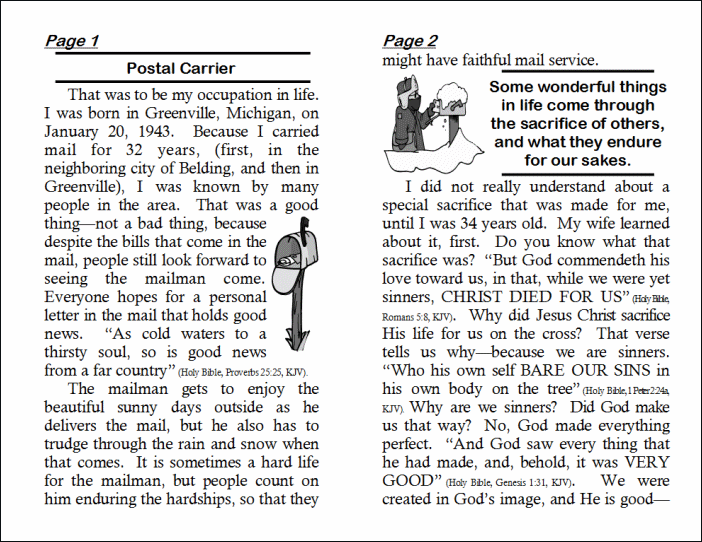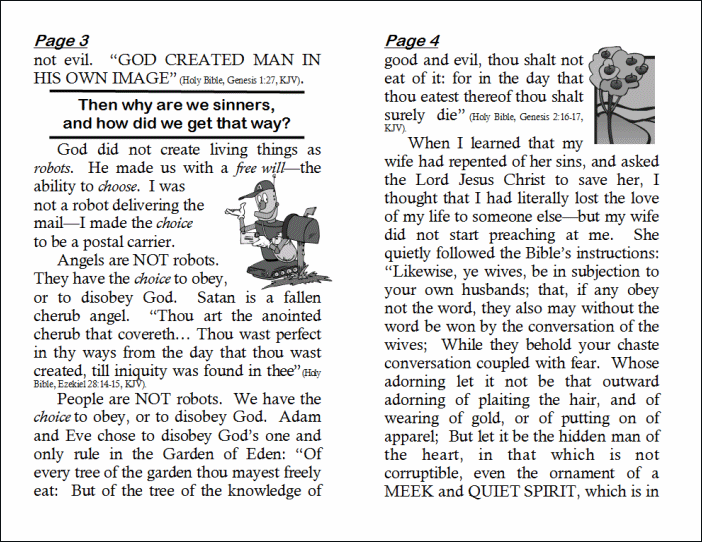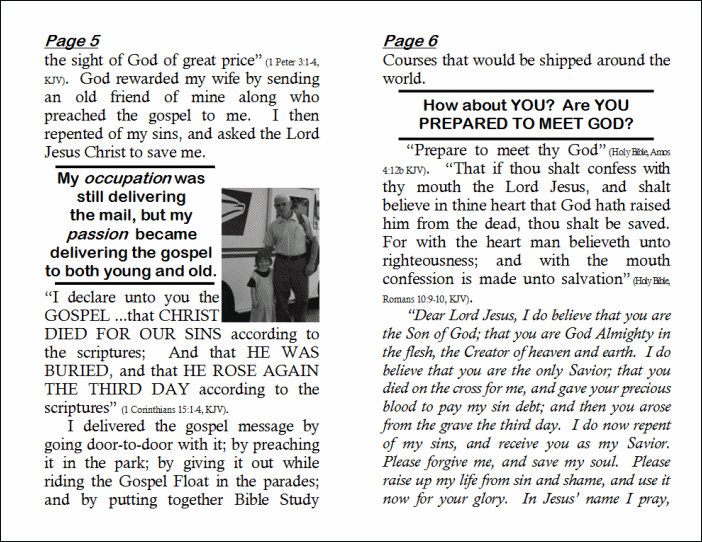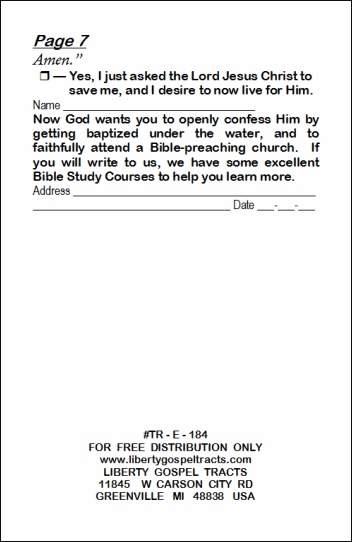 TEXT VERSION
Rain or Shine!
The True Life Story of a Postal Worker
Postal Carrier
       That was to be my occupation in life.  I was born in Greenville, Michigan, on January 20, 1943.  Because I carried mail for 32 years, (first, in the neighboring city of Belding, and then in Greenville), I was known by many people in the area.  That was a good thing—not a bad thing, because despite the bills that come in the mail, people still look forward to seeing the mailman come.  Everyone hopes for a personal letter in the mail that holds good news.  "As cold waters to a thirsty soul, so is good news from a far country" (Holy Bible, Proverbs 25:25, KJV).
       The mailman gets to enjoy the beautiful sunny days outside as he delivers the mail, but he also has to trudge through the rain and snow when that comes.  It is sometimes a hard life for the mailman, but people count on him enduring the hardships, so that they might have faithful mail service.
Some wonderful things in life come through the sacrifice of others, and what they endure for our sakes.
I did not really understand about a special sacrifice that was made for me, until I was 34 years old.  My wife learned about it, first.  Do you know what that sacrifice was?  "But God commendeth his love toward us, in that, while we were yet sinners, CHRIST DIED FOR US" (Holy Bible, Romans 5:8, KJV).  Why did Jesus Christ sacrifice His life for us on the cross?  That verse tells us why—because we are sinners.  "Who his own self BARE OUR SINS in his own body on the tree" (Holy Bible, 1 Peter 2:24a, KJV).  Why are we sinners?  Did God make us that way?  No, God made everything perfect.  "And God saw every thing that he had made, and, behold, it was VERY GOOD" (Holy Bible, Genesis 1:31, KJV).  We were created in God's image, and He is good—not evil.  "GOD CREATED MAN IN HIS OWN IMAGE" (Holy Bible, Genesis 1:27, KJV).
Then why are we sinners,
and how did we get that way?
God did not create living things as robots.  He made us with a free will—the ability to choose.  I was
not a robot delivering the
mail—I made the choice
to be a postal carrier.
Angels are NOT robots.
They have the choice to obey,
or to disobey God.  Satan is a fallen cherub angel.  "Thou art the anointed cherub that covereth… Thou wast perfect in thy ways from the day that thou wast created, till iniquity was found in thee" (Holy Bible, Ezekiel 28:14-15, KJV).
People are NOT robots.  We have the choice to obey, or to disobey God.  Adam and Eve chose to disobey God's one and only rule in the Garden of Eden: "Of every tree of the garden thou mayest freely eat:  But of the tree of the knowledge of good and evil, thou shalt not eat of it: for in the day that thou eatest thereof thou shalt surely die" (Holy Bible, Genesis 2:16-17, KJV).
When I learned that my wife had repented of her sins, and asked the Lord Jesus Christ to save her, I thought that I had literally lost the love of my life to someone else—but my wife did not start preaching at me.  She quietly followed the Bible's instructions: "Likewise, ye wives, be in subjection to your own husbands; that, if any obey not the word, they also may without the word be won by the conversation of the wives;  While they behold your chaste conversation coupled with fear.  Whose adorning let it not be that outward adorning of plaiting the hair, and of wearing of gold, or of putting on of apparel;  But let it be the hidden man of the heart, in that which is not corruptible, even the ornament of a MEEK and QUIET SPIRIT, which is in the sight of God of great price" (1 Peter 3:1-4, KJV).  God rewarded my wife by sending an old friend of mine along who preached the gospel to me.  I then repented of my sins, and asked the Lord Jesus Christ to save me.
My occupation was still delivering
the mail, but my passion  became delivering the gospel to both young and old.
"I declare unto you the GOSPEL …that CHRIST DIED FOR OUR SINS according to the scriptures;  And that HE WAS BURIED, and that HE ROSE AGAIN THE THIRD DAY according to the scriptures" (1 Corinthians 15:1-4, KJV).
I delivered the gospel message by going door-to-door with it; by preaching it in the park; by giving it out while riding the Gospel Float in the parades; and by putting together Bible Study Courses that would be shipped around the world.
How about YOU?  Are YOU PREPARED TO MEET GOD?
"Prepare to meet thy God" (Holy Bible, Amos 4:12b KJV).  "That if thou shalt confess with thy mouth the Lord Jesus, and shalt believe in thine heart that God hath raised him from the dead, thou shalt be saved.  For with the heart man believeth unto righteousness; and with the mouth confession is made unto salvation" (Holy Bible, Romans 10:9-10, KJV).
"Dear Lord Jesus, I do believe that you are the Son of God; that you are God Almighty in the flesh, the Creator of heaven and earth.  I do believe that you are the only Savior; that you died on the cross for me, and gave your precious blood to pay my sin debt; and then you arose from the grave the third day.  I do now repent of my sins, and receive you as my Savior.  Please forgive me, and save my soul.  Please raise up my life from sin and shame, and use it now for your glory.  In Jesus' name I pray, Amen."
Yes, I just asked the Lord Jesus Christ to
          save me, and I desire to now live for Him.
Name __________________________________
Now God wants you to openly confess Him by getting baptized under the water, and to faithfully attend a Bible-preaching church.  If you will write to us, we have some excellent Bible Study Courses to help you learn more.
Address ___________________________________________
___________________________________ Date ___-___-___
#TR – E – 184
FOR  FREE  DISTRIBUTION  ONLY
© 2014
LIBERTY  GOSPEL  TRACTS
11845    W CARSON  CITY  RD
GREENVILLE   MI   48838   USA