Description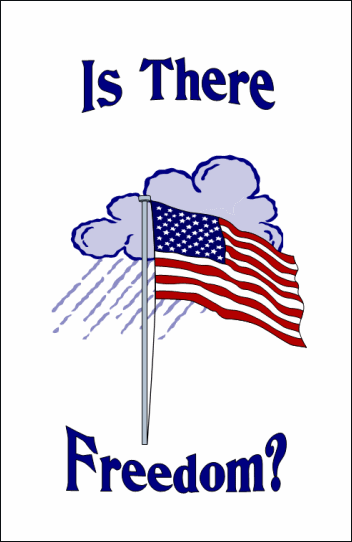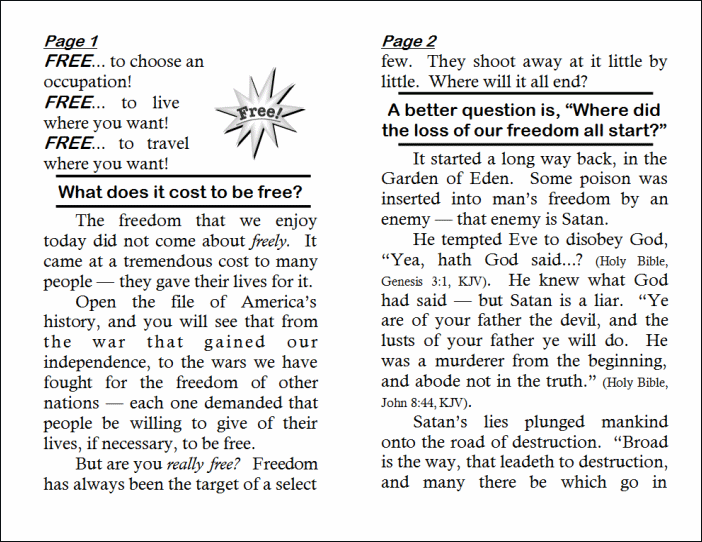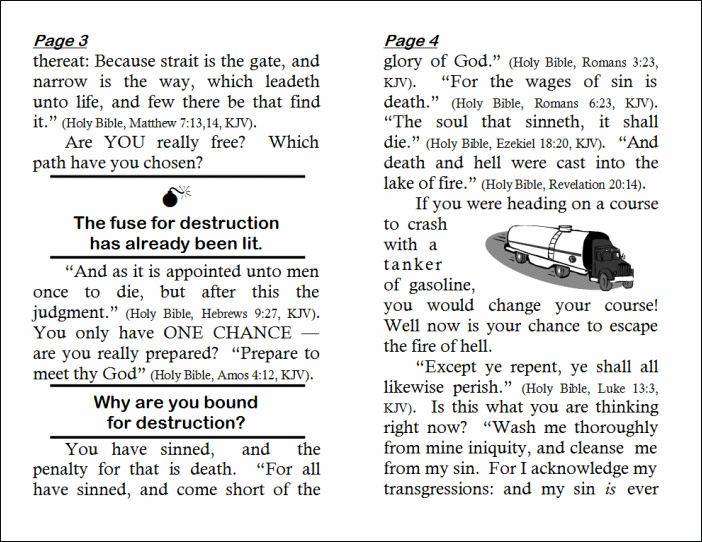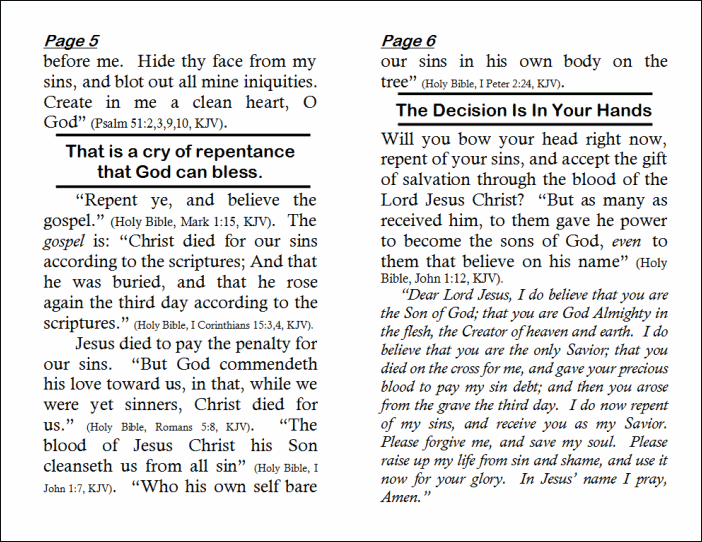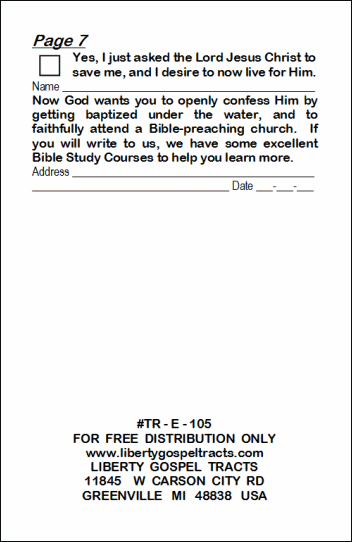 TEXT VERSION
Is There Freedom?
FREE… to choose an occupation!
FREE… to live where you want!
FREE… to travel where you want!
What does it cost to be free?
         The freedom that we enjoy today did not come about freely.  It came at a tremendous cost to many people — they gave their lives for it.
         Open the file of America's history, and you will see that from the war that gained our independence, to the wars we have fought for the freedom of other nations — each one demanded that people be willing to give of their lives, if necessary, to be free.
But are you really free?  Freedom has always been the target of a select few.  They shoot away at it little by little.  Where will it all end?
A better question is, "Where did the loss of our freedom all start?"
It started a long way back, in the Garden of Eden.  Some poison was inserted into man's freedom by an enemy — that enemy is Satan.
He tempted Eve to disobey God, "Yea, hath God said…? (Holy Bible, Genesis 3:1, KJV).  He knew what God had said — but Satan is a liar.  "Ye are of your father the devil, and the lusts of your father ye will do.  He was a murderer from the beginning, and abode not in the truth." (Holy Bible, John 8:44, KJV).
Satan's lies plunged mankind onto the road of destruction.  "Broad is the way, that leadeth to destruction, and many there be which go in thereat: Because strait is the gate, and narrow is the way, which leadeth unto life, and few there be that find it." (Holy Bible, Matthew 7:13,14, KJV).
Are YOU really free?  Which path have you chosen?
M
The fuse for destruction
has already been lit.
"And as it is appointed unto men once to die, but after this the judgment." (Holy Bible, Hebrews 9:27, KJV).  You only have ONE CHANCE — are you really prepared?  "Prepare to meet thy God" (Holy Bible, Amos 4:12, KJV).
Why are you bound
for destruction?
You have sinned,  and  the  penalty for that is death.  "For all have sinned, and come short of the glory of God." (Holy Bible, Romans 3:23, KJV).  "For the wages of sin is death." (Holy Bible, Romans 6:23, KJV).  "The soul that sinneth, it shall die." (Holy Bible, Ezekiel 18:20, KJV).    "And death and hell were cast into the lake of fire." (Holy Bible, Revelation 20:14).
If you were heading on a course to crash with a tanker of gasoline, you would change your course!  Well now is your chance to escape the fire of hell.
"Except ye repent, ye shall all likewise perish." (Holy Bible, Luke 13:3, KJV).  Is this what you are thinking right now?  "Wash me thoroughly from mine iniquity, and cleanse  me  from my sin.  For I acknowledge my transgressions: and my sin is ever before me.  Hide thy face from my sins, and blot out all mine iniquities.  Create in me a clean heart, O God" (Psalm 51:2,3,9,10, KJV).
That is a cry of repentance
that God can bless.
"Repent ye, and believe the gospel." (Holy Bible, Mark 1:15, KJV).  The gospel is: "Christ died for our sins according to the scriptures; And that he was buried, and that he rose again the third day according to the scriptures." (Holy Bible, I Corinthians 15:3,4, KJV).
Jesus died to pay the penalty for our sins.  "But God commendeth his love toward us, in that, while we were yet sinners, Christ died for us." (Holy Bible, Romans 5:8, KJV).  "The blood of Jesus Christ his Son cleanseth us from all sin" (Holy Bible, I John 1:7, KJV).  "Who his own self bare our sins in his own body on the tree" (Holy Bible, I Peter 2:24, KJV).
The Decision Is In Your Hands
Will you bow your head right now, repent of your sins, and accept the gift of salvation through the blood of the Lord Jesus Christ?  "But as many as received him, to them gave he power to become the sons of God, even to them that believe on his name" (Holy Bible, John 1:12, KJV).
"Dear Lord Jesus, I do believe that you are the Son of God; that you are God Almighty in the flesh, the Creator of heaven and earth.  I do believe that you are the only Savior; that you died on the cross for me, and gave your precious blood to pay my sin debt; and then you arose from the grave the third day.  I do now repent of my sins, and receive you as my Savior.  Please forgive me, and save my soul.  Please raise up my life from sin and shame, and use it now for your glory.  In Jesus' name I pray, Amen."
Yes, I just asked the Lord Jesus Christ to save me, and I desire to now live for Him.
Name _____________________________________________
God wants you to now openly confess Him by getting baptized under the water, and to faithfully attend a Bible-preaching church.  If you will write to us, we have some excellent Bible Study Courses to help you learn more.
Address ___________________________________________
___________________________________ Date ___-___-___
#TR – E – 105
© 2015
FOR  FREE  DISTRIBUTION  ONLY
www.libertygospeltracts.com
LIBERTY  GOSPEL  TRACTS
11845    W  CARSON  CITY  RD
GREENVILLE   MI   48838   USA