Description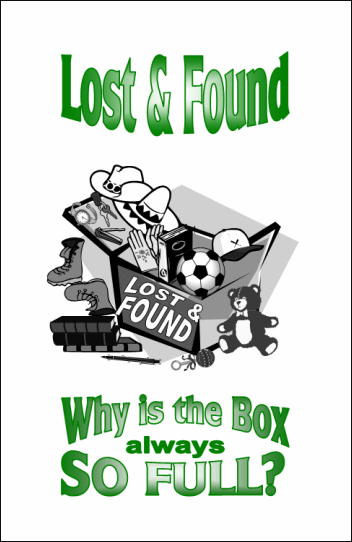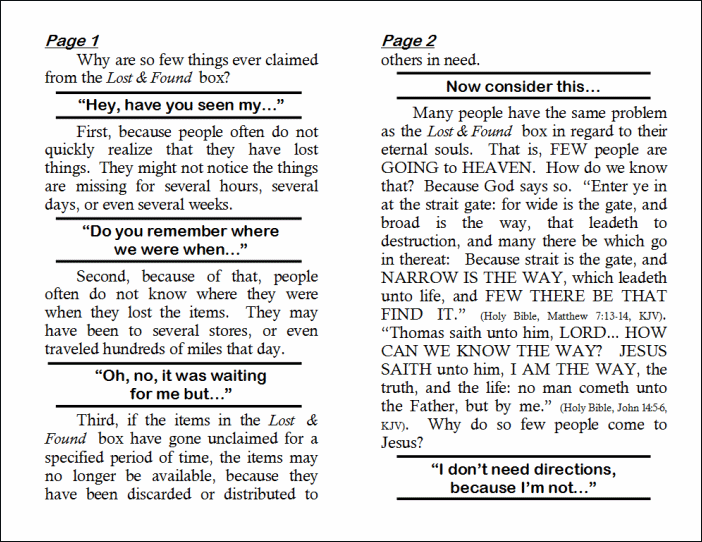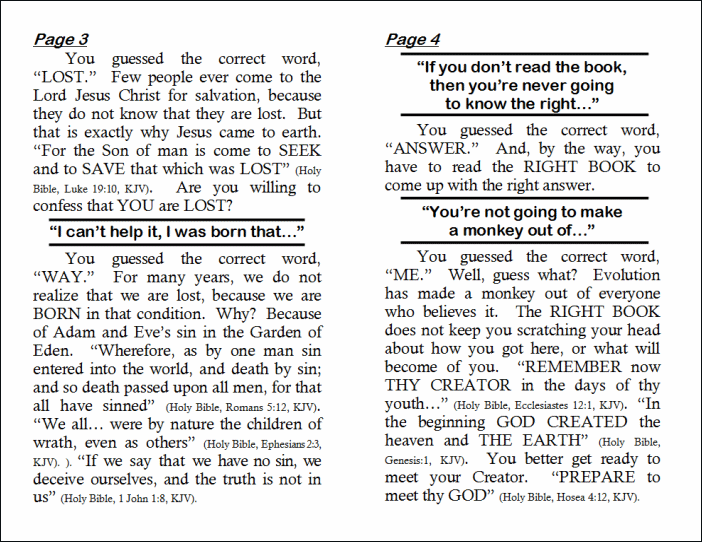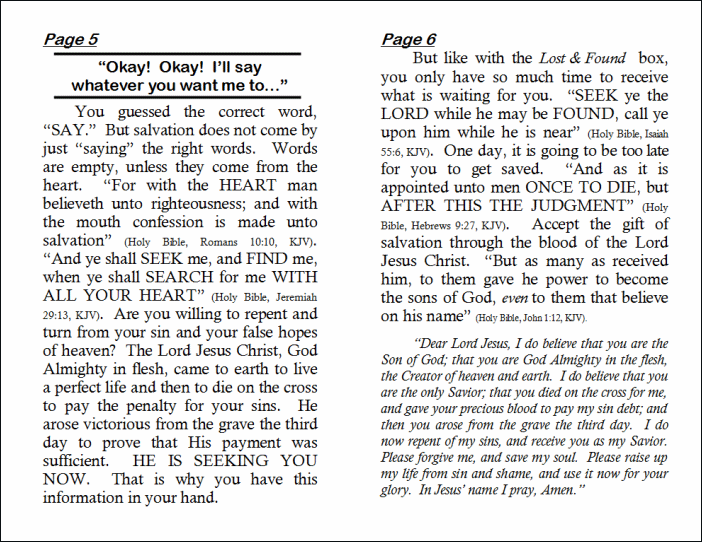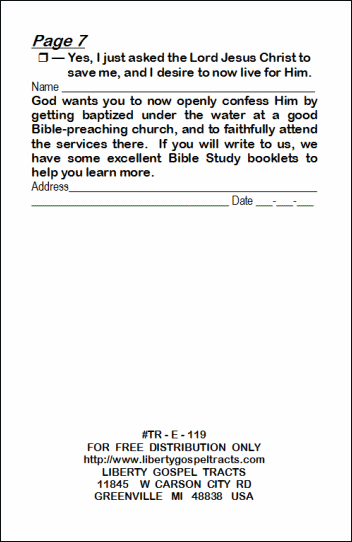 TEXT VERSION
 Lost & Found, Whay Is The Box Always So Full?
     Why are so few things ever claimed from the Lost & Found  box?
"Hey, have you seen my…"
         First, because people often do not quickly realize that they have lost things.  They might not notice the things are missing for several hours, several days, or even several weeks.
"Do you remember where
we were when…"
         Second, because of that, people often do not know where they were when they lost the items.  They may have been to several stores, or even traveled hundreds of miles that day.
"Oh, no, it was waiting
for me but…"
Third, if the items in the Lost & Found  box have gone unclaimed for a specified period of time, the items may no longer be available, because they have been discarded or distributed to others in need.
Now consider this…
Many people have the same problem as the Lost & Found  box in regard to their eternal souls.  That is, FEW people are GOING to HEAVEN.  How do we know that?  Because God says so.  "Enter ye in at the strait gate: for wide is the gate, and broad is the way, that leadeth to destruction, and many there be which go in thereat:   Because strait is the gate, and NARROW IS THE WAY, which leadeth unto life, and FEW THERE BE THAT FIND IT." (Holy Bible, Matthew 7:13-14, KJV).   "Thomas saith unto him, LORD… HOW CAN WE KNOW THE WAY?   JESUS SAITH unto him, I AM THE WAY, the truth, and the life: no man cometh unto the Father, but by me." (Holy Bible, John 14:5-6, KJV).  Why do so few people come to Jesus?
"I don't need directions,
because I'm not…"
You guessed the correct word, "LOST."  Few people ever come to the Lord Jesus Christ for salvation, because they do not know that they are lost.  But that is exactly why Jesus came to earth.  "For the Son of man is come to SEEK and to SAVE that which was LOST" (Holy Bible, Luke 19:10, KJV).  Are you willing to confess that YOU are LOST?
"I can't help it, I was born that…"
You guessed the correct word, "WAY."  For many years, we do not realize that we are lost, because we are BORN in that condition.  Why?  Because of Adam and Eve's sin in the Garden of Eden.  "Wherefore, as by one man sin entered into the world, and death by sin; and so death passed upon all men, for that all have sinned" (Holy Bible, Romans 5:12, KJV).  "We all… were by nature the children of wrath, even as others" (Holy Bible, Ephesians 2:3, KJV).  ).  "If we say that we have no sin, we deceive ourselves, and the truth is not in us" (Holy Bible, 1 John 1:8, KJV).
"If you don't read the book,
then you're never going
to know the right…"
You guessed the correct word, "ANSWER."  And, by the way, you have to read the RIGHT BOOK to come up with the right answer.
"You're not going to make
a monkey out of…"
You guessed the correct word, "ME."  Well, guess what?  Evolution has made a monkey out of everyone who believes it.  The RIGHT BOOK does not keep you scratching your head about how you got here, or what will become of you.  "REMEMBER now THY CREATOR in the days of thy youth…" (Holy Bible, Ecclesiastes 12:1, KJV).  "In the beginning GOD CREATED the heaven and THE EARTH" (Holy Bible, Genesis:1, KJV).  You better get ready to meet your Creator.  "PREPARE to meet thy GOD" (Holy Bible, Hosea 4:12, KJV).
"Okay!  Okay!  I'll say
whatever you want me to…"
You guessed the correct word, "SAY."  But salvation does not come by just "saying" the right words.  Words are empty, unless they come from the heart.  "For with the HEART man believeth unto righteousness; and with the mouth confession is made unto salvation" (Holy Bible, Romans 10:10, KJV).  "And ye shall SEEK me, and FIND me, when ye shall SEARCH for me WITH ALL YOUR HEART" (Holy Bible, Jeremiah 29:13, KJV).  Are you willing to repent and turn from your sin and your false hopes of heaven?  The Lord Jesus Christ, God Almighty in flesh, came to earth to live a perfect life and then to die on the cross to pay the penalty for your sins.  He arose victorious from the grave the third day to prove that His payment was sufficient.  HE IS SEEKING YOU NOW.  That is why you have this information in your hand.
But like with the Lost & Found  box, you only have so much time to receive what is waiting for you.  "SEEK ye the LORD while he may be FOUND, call ye upon him while he is near" (Holy Bible, Isaiah 55:6, KJV).  One day, it is going to be too late for you to get saved.  "And as it is appointed unto men ONCE TO DIE, but AFTER THIS THE JUDGMENT" (Holy Bible, Hebrews 9:27, KJV).  Accept the gift of salvation through the blood of the Lord Jesus Christ.  "But as many as received him, to them gave he power to become the sons of God, even to them that believe on his name" (Holy Bible, John 1:12, KJV).
"Dear Lord Jesus, I do believe that you are the Son of God; that you are God Almighty in the flesh, the Creator of heaven and earth.  I do believe that you are the only Savior; that you died on the cross for me, and gave your precious blood to pay my sin debt; and then you arose from the grave the third day.  I do now repent of my sins, and receive you as my Savior.  Please forgive me, and save my soul.  Please raise up my life from sin and shame, and use it now for your glory.  In Jesus' name I pray, Amen."
Yes, I just asked the Lord Jesus Christ to
          save me, and I desire to now live for Him.
Name _____________________________________________
God wants you to now openly confess Him by getting baptized under the water at a good Bible-preaching church, and to faithfully attend the services there.  If you will write to us, we have some excellent Bible Study booklets to help you learn more.
Address____________________________________________
___________________________________ Date ___-___-___
#TR – E – 119
© 2015
FOR  FREE  DISTRIBUTION  ONLY
www.libertygospeltracts.com
LIBERTY  GOSPEL  TRACTS
11845    W  CARSON  CITY  RD
GREENVILLE   MI   48838   USA