Description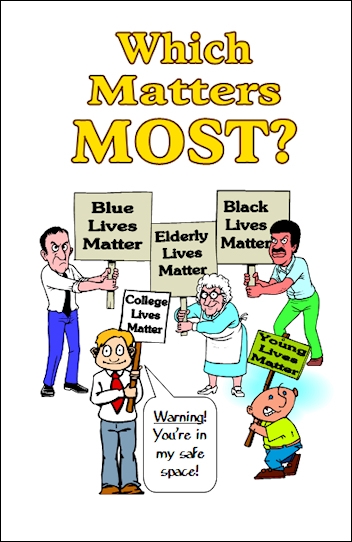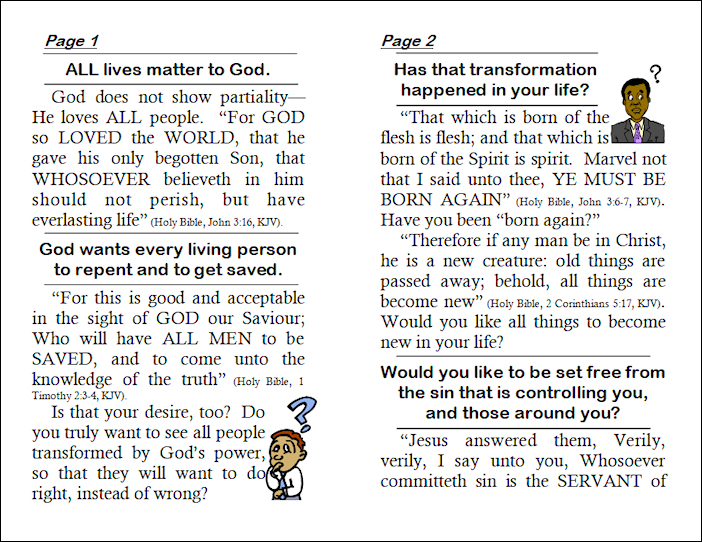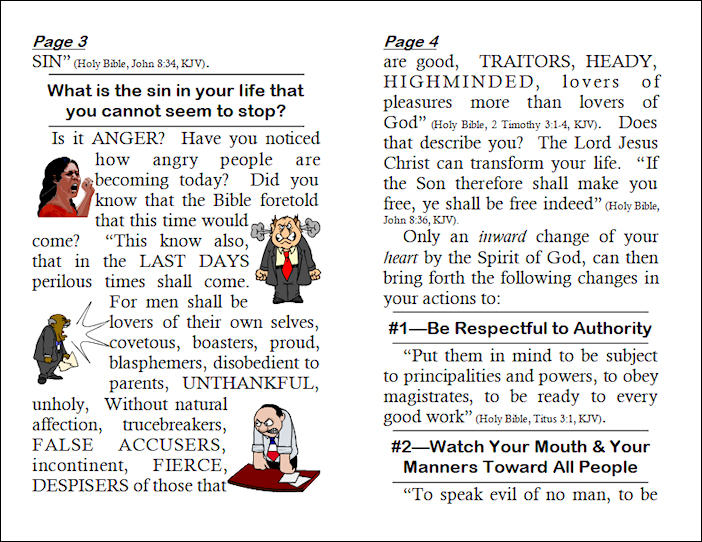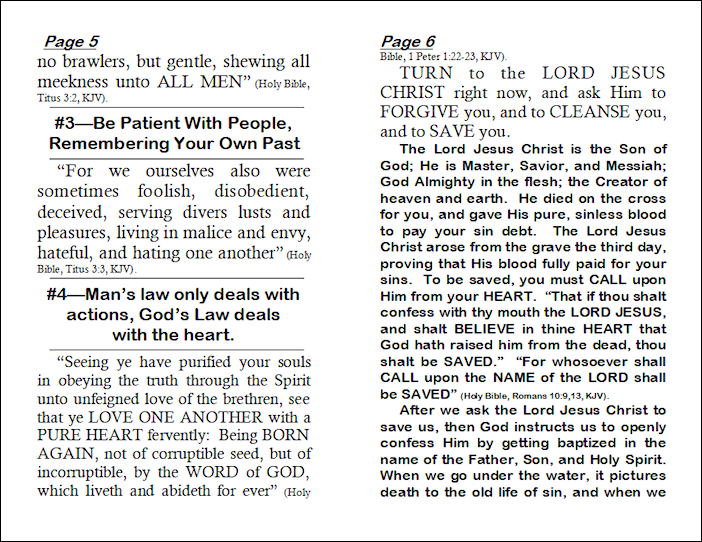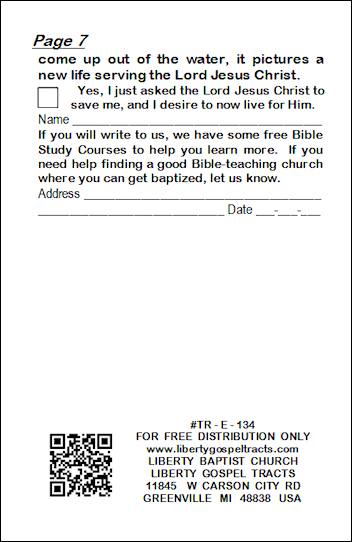 TEXT VERSION
ALL lives matter to God.
God does not show partiality—He loves ALL people.  "For GOD so LOVED the WORLD, that he gave his only begotten Son, that WHOSOEVER believeth in him should not perish, but have everlasting life" (Holy Bible, John 3:16, KJV).
God wants every living person to repent and to get saved.
"For this is good and acceptable in the sight of GOD our Saviour;  Who will have ALL MEN to be SAVED, and to come unto the knowledge of the truth" (Holy Bible, 1 Timothy 2:3-4, KJV).
Is that your desire, too?  Do you truly want to see all people transformed by God's power, so that they will want to do right, instead of wrong?
Has that transformation happened in your life?
"That which is born of the flesh is flesh; and that which is born of the Spirit is spirit.  Marvel not that I said unto thee, YE MUST BE BORN AGAIN" (Holy Bible, John 3:6-7, KJV).  Have you been "born again?"
"Therefore if any man be in Christ, he is a new creature: old things are passed away; behold, all things are become new" (Holy Bible, 2 Corinthians 5:17, KJV).  Would you like all things to become new in your life?
Would you like to be set free from the sin that is controlling you, and those around you?
"Jesus answered them, Verily, verily, I say unto you, Whosoever committeth sin is the SERVANT of SIN" (Holy Bible, John 8:34, KJV).
What is the sin in your life that you cannot seem to stop?
Is it ANGER?  Have you noticed how angry people are becoming today?  Did you know that the Bible foretold that this time would come?  "This know also, that in the LAST DAYS perilous times shall come.  For men shall be lovers of their own selves, covetous, boasters, proud, blasphemers, disobedient to parents, UNTHANKFUL, unholy,  Without natural affection, trucebreakers, FALSE ACCUSERS, incontinent, FIERCE, DESPISERS of those that are good,  TRAITORS, HEADY, HIGHMINDED, lovers of pleasures more than lovers of God" (Holy Bible, 2 Timothy 3:1-4, KJV).  Does that describe you?  The Lord Jesus Christ can transform your life.  "If the Son therefore shall make you free, ye shall be free indeed" (Holy Bible, John 8:36, KJV).
Only an inward change of your heart by the Spirit of God, can then bring forth the following changes in your actions to:
#1—Be Respectful to Authority
"Put them in mind to be subject to principalities and powers, to obey magistrates, to be ready to every good work" (Holy Bible, Titus 3:1, KJV).
#2—Watch Your Mouth & Your Manners Toward All People
"To speak evil of no man, to be no brawlers, but gentle, shewing all meekness unto ALL MEN" (Holy Bible, Titus 3:2, KJV).
#3—Be Patient With People, Remembering Your Own Past
"For we ourselves also were sometimes foolish, disobedient, deceived, serving divers lusts and pleasures, living in malice and envy, hateful, and hating one another" (Holy Bible, Titus 3:3, KJV).
#4—Man's law only deals with actions, God's Law deals
with the heart.
"Seeing ye have purified your souls in obeying the truth through the Spirit unto unfeigned love of the brethren, see that ye LOVE ONE ANOTHER with a PURE HEART fervently:  Being BORN AGAIN, not of corruptible seed, but of incorruptible, by the WORD of GOD, which liveth and abideth for ever" (Holy Bible, 1 Peter 1:22-23, KJV).
TURN to the LORD JESUS CHRIST right now, and ask Him to FORGIVE you, and to CLEANSE you, and to SAVE you.
The Lord Jesus Christ is the Son of God; He is Master, Savior, and Messiah; God Almighty in the flesh; the Creator of heaven and earth.  He died on the cross for you, and gave His pure, sinless blood to pay your sin debt.  The Lord Jesus Christ arose from the grave the third day, proving that His blood fully paid for your sins.  To be saved, you must CALL upon Him from your HEART.  "That if thou shalt confess with thy mouth the LORD JESUS, and shalt BELIEVE in thine HEART that God hath raised him from the dead, thou shalt be SAVED."  "For whosoever shall CALL upon the NAME of the LORD shall be SAVED" (Holy Bible, Romans 10:9,13, KJV).
After we ask the Lord Jesus Christ to save us, then God instructs us to openly confess Him by getting baptized in the name of the Father, Son, and Holy Spirit.  When we go under the water, it pictures death to the old life of sin, and when we come up out of the water, it pictures a new life serving the Lord Jesus Christ.
Yes, I just asked the Lord Jesus Christ to save me, and I desire to now live for Him.
Name _______________________________________
If you will write to us, we have some free Bible Study Courses to help you learn more.  If you need help finding a good Bible-teaching church where you can get baptized, let us know.
Address _____________________________________
_____________________________ Date ___-___-___
#TR – E – 134
FOR  FREE  DISTRIBUTION  ONLY
www.libertygospeltracts.com
LIBERTY  BAPTIST  CHURCH
LIBERTY  GOSPEL  TRACTS
11845    W  CARSON  CITY  RD
GREENVILLE   MI   48838   USA