Description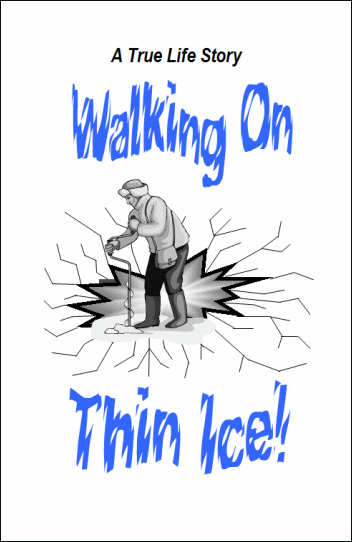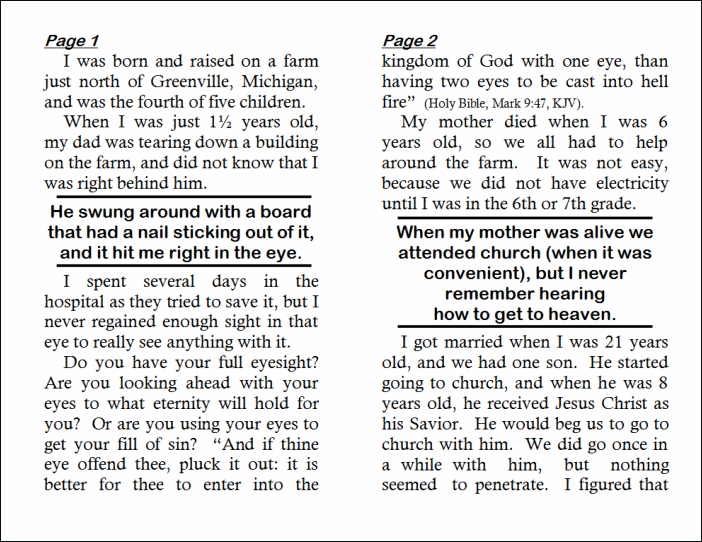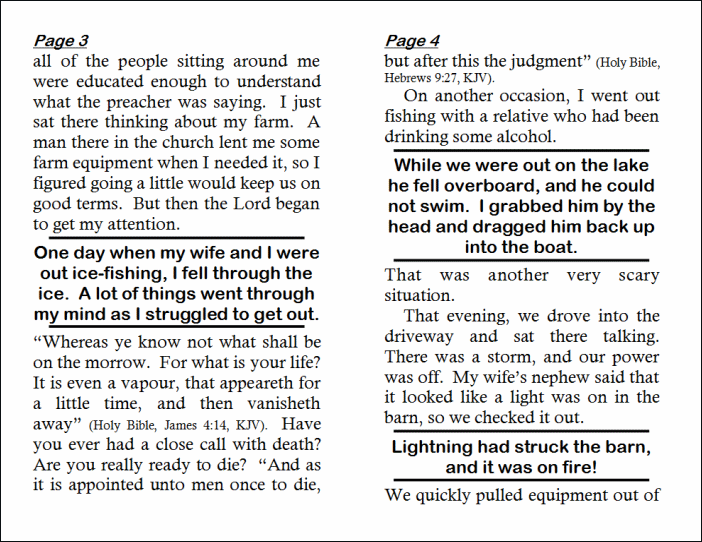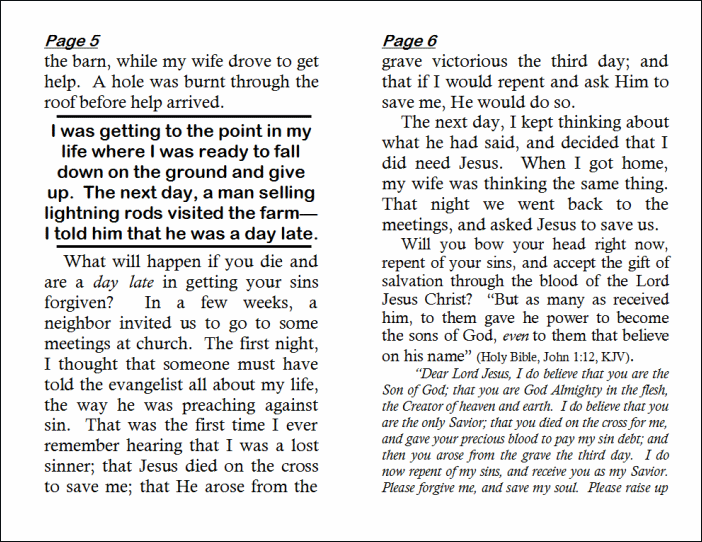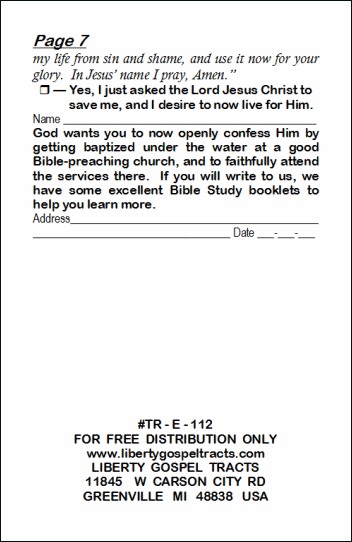 TEXT VERSION
Walking On Thin Ice!
      I was born and raised on a farm just north of Greenville, Michigan, and was the fourth of five children.
      When I was just 1½ years old, my dad was tearing down a building on the farm, and did not know that I was right behind him.
He swung around with a board that had a nail sticking out of it, and it hit me right in the eye.
      I spent several days in the hospital as they tried to save it, but I never regained enough sight in that eye to really see anything with it.
Do you have your full eyesight?  Are you looking ahead with your eyes to what eternity will hold for you?  Or are you using your eyes to get your fill of sin?  "And if thine eye offend thee, pluck it out: it is better for thee to enter into the kingdom of God with one eye, than having two eyes to be cast into hell fire"  (Holy Bible, Mark 9:47, KJV).
My mother died when I was 6 years old, so we all had to help around the farm.  It was not easy, because we did not have electricity until I was in the 6th or 7th grade.
When my mother was alive we attended church (when it was convenient), but I never remember hearing
how to get to heaven.
I got married when I was 21 years old, and we had one son.  He started going to church, and when he was 8 years old, he received Jesus Christ as his Savior.  He would beg us to go to church with him.  We did go once in a while with  him,  but  nothing  seemed  to penetrate.  I figured that all of the people sitting around me were educated enough to understand what the preacher was saying.  I just sat there thinking about my farm.  A man there in the church lent me some farm equipment when I needed it, so I figured going a little would keep us on good terms.  But then the Lord began to get my attention.
One day when my wife and I were out ice-fishing, I fell through the ice.  A lot of things went through my mind as I struggled to get out.
"Whereas ye know not what shall be on the morrow.  For what is your life?  It is even a vapour, that appeareth for a little time, and then vanisheth away" (Holy Bible, James 4:14, KJV).  Have you ever had a close call with death?  Are you really ready to die?  "And as it is appointed unto men once to die, but after this the judgment" (Holy Bible, Hebrews 9:27, KJV).
On another occasion, I went out fishing with a relative who had been drinking some alcohol.
While we were out on the lake he fell overboard, and he could not swim.  I grabbed him by the head and dragged him back up into the boat.
That was another very scary situation.
That evening, we drove into the driveway and sat there talking.  There was a storm, and our power was off.  My wife's nephew said that it looked like a light was on in the barn, so we checked it out.
Lightning had struck the barn, and it was on fire!
We quickly pulled equipment out of the barn, while my wife drove to get help.  A hole was burnt through the roof before help arrived.
I was getting to the point in my life where I was ready to fall down on the ground and give up.  The next day, a man selling lightning rods visited the farm—I told him that he was a day late.
What will happen if you die and are a day late in getting your sins forgiven?  In a few weeks, a neighbor invited us to go to some meetings at church.  The first night, I thought that someone must have told the evangelist all about my life, the way he was preaching against sin.  That was the first time I ever remember hearing that I was a lost sinner; that Jesus died on the cross to save me; that He arose from the grave victorious the third day; and that if I would repent and ask Him to save me, He would do so.
The next day, I kept thinking about what he had said, and decided that I did need Jesus.  When I got home, my wife was thinking the same thing.  That night we went back to the meetings, and asked Jesus to save us.
Will you bow your head right now, repent of your sins, and accept the gift of salvation through the blood of the Lord Jesus Christ?  "But as many as received him, to them gave he power to become the sons of God, even to them that believe on his name" (Holy Bible, John 1:12, KJV).
"Dear Lord Jesus, I do believe that you are the Son of God; that you are God Almighty in the flesh, the Creator of heaven and earth.  I do believe that you are the only Savior; that you died on the cross for me, and gave your precious blood to pay my sin debt; and then you arose from the grave the third day.  I do now repent of my sins, and receive you as my Savior.  Please forgive me, and save my soul.  Please raise up my life from sin and shame, and use it now for your glory.  In Jesus' name I pray, Amen."
Yes, I just asked the Lord Jesus Christ to
          save me, and I desire to now live for Him.
Name _____________________________________________
God wants you to now openly confess Him by getting baptized under the water at a good Bible-preaching church, and to faithfully attend the services there.  If you will write to us, we have some excellent Bible Study booklets to help you learn more.
Address____________________________________________
___________________________________ Date ___-___-___
#TR – E – 112
© 2014
FOR  FREE  DISTRIBUTION  ONLY
www.libertygospeltracts.com
LIBERTY  GOSPEL  TRACTS
11845    W  CARSON  CITY  RD
GREENVILLE   MI   48838   USA