Description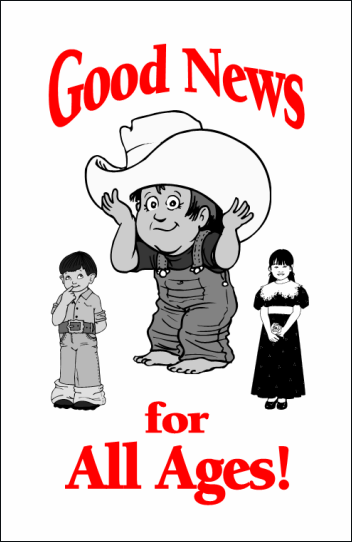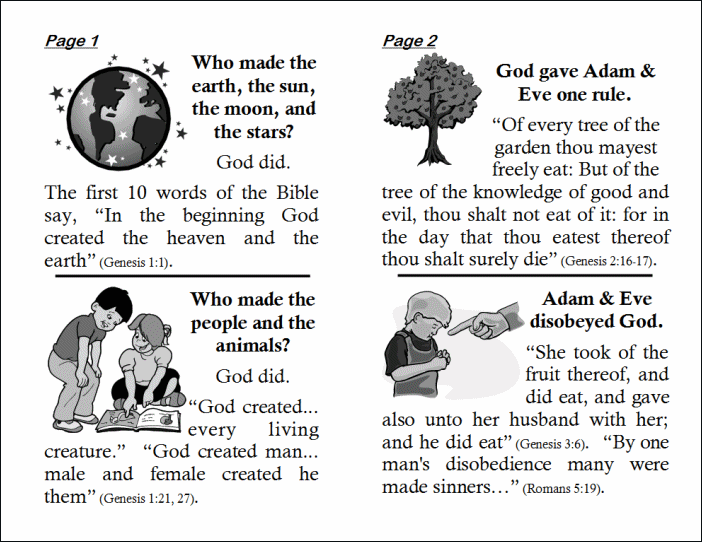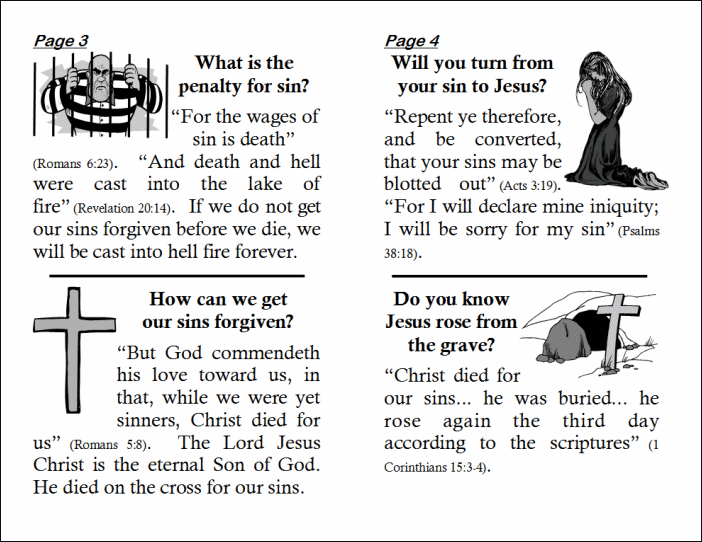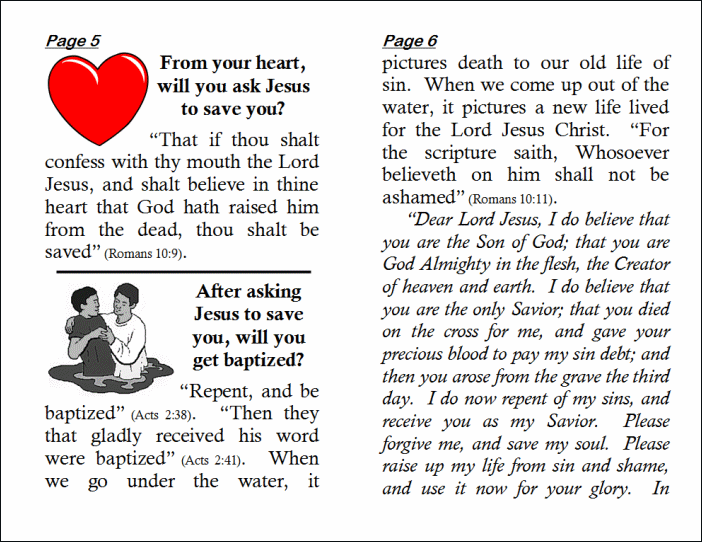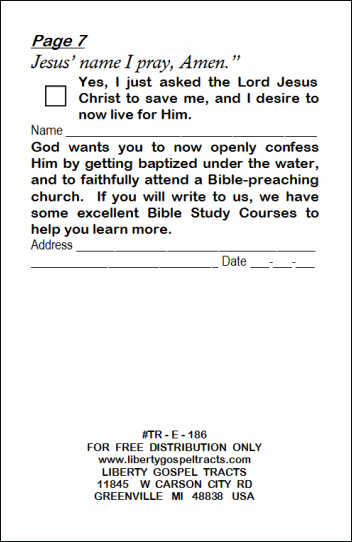 TEXT VERSION
Good News for All Ages
Who made the earth, the sun, the moon, and the stars?
God did.
The first 10 words of the Bible say, "In the beginning God created the heaven and the earth" (Genesis 1:1).
Who made the people and the animals?
God did.
"God created… every living creature."  "God created man… male and female created he them" (Genesis 1:21, 27).
God gave Adam & Eve one rule.
"Of every tree of the garden thou mayest freely eat: But of the
tree of the knowledge of good and evil, thou shalt not eat of it: for in the day that thou eatest thereof thou shalt surely die" (Genesis 2:16-17).
Adam & Eve disobeyed God.
"She took of the fruit thereof, and did eat, and gave also unto her husband with her; and he did eat" (Genesis 3:6).  "By one man's disobedience many were made sinners…" (Romans 5:19).
What is the penalty for sin?
"For the wages of sin is death"
(Romans 6:23).  "And death and hell were cast into the lake of fire" (Revelation 20:14).  If we do not get our sins forgiven before we die, we will be cast into hell fire forever.
How can we get
our sins forgiven?
"But God commendeth his love toward us, in that, while we were yet sinners, Christ died for us" (Romans 5:8).  The Lord Jesus Christ is the eternal Son of God.  He died on the cross for our sins.
Will you turn from your sin to Jesus?
"Repent ye therefore, and be converted, that your sins may be blotted out" (Acts 3:19).  "For I will declare mine iniquity; I will be sorry for my sin" (Psalms 38:18).
Do you know Jesus rose from the grave?
"Christ died for our sins… he was buried… he rose again the third day according to the scriptures" (1 Corinthians 15:3-4).
From your heart, will you ask Jesus to save you?
"That if thou shalt confess with thy mouth the Lord Jesus, and shalt believe in thine heart that God hath raised him from the dead, thou shalt be saved" (Romans 10:9).
After asking Jesus to save you, will you get baptized?
"Repent, and be baptized" (Acts 2:38).  "Then they that gladly received his word were baptized" (Acts 2:41).  When we go under the water, it pictures death to our old life of sin.  When we come up out of the water, it pictures a new life lived for the Lord Jesus Christ.  "For the scripture saith, Whosoever believeth on him shall not be ashamed" (Romans 10:11).
"Dear Lord Jesus, I do believe that you are the Son of God; that you are God Almighty in the flesh, the Creator of heaven and earth.  I do believe that you are the only Savior; that you died on the cross for me, and gave your precious blood to pay my sin debt; and then you arose from the grave the third day.  I do now repent of my sins, and receive you as my Savior.  Please forgive me, and save my soul.  Please raise up my life from sin and shame, and use it now for your glory.  In Jesus' name I pray, Amen."
Yes, I just asked the Lord Jesus Christ to save me, and I desire to now live for Him.
Name _______________________________________
God wants you to now openly confess Him by getting baptized under the water, and to faithfully attend a Bible-preaching church.  If you will write to us, we have some excellent Bible Study Courses to help you learn more.
Address _____________________________________
_____________________________ Date ___-___-___
#TR – E – 186
© 2014
FOR  FREE  DISTRIBUTION  ONLY
www.libertygospeltracts.com
LIBERTY  GOSPEL  TRACTS
11845    W  CARSON  CITY  RD
GREENVILLE   MI   48838   USA